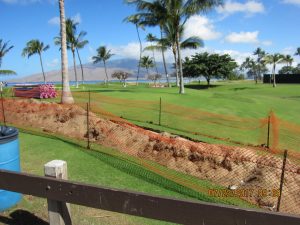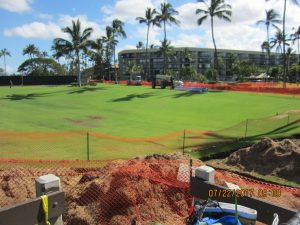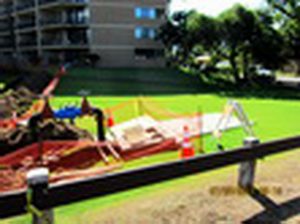 UPDATE 8/21/17 WELL WE KNOW IT DID NOT REOPEN ON AUG 11, AS THE SIGN SAYS.Latest in now :
:UPDATE: Work on the irrigation system will continue through the end of September, which will require portions of the park to remain closed. The parking lot, restrooms and tennis courts will be open during this portion of the project. Please obey all park signage and avoid construction areas during this time.
UPDATE 7/22/17 You see here what is the present situation as guys are using the park (on a Saturday) and the grass still looks very good
UPDATE 7/8/17 PARK CLOSED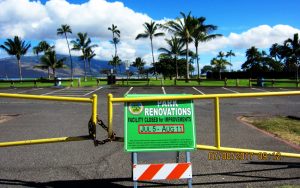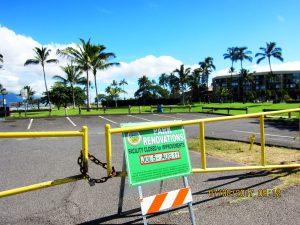 UPDATE: 7/5/17. Well just when we though we have clear information on this project's required closure information, late this morning that long awaited County press release. According to this, the park closure now extends beyond the Aug 11 date on the sign "to the end of August so that contractors can install a new irrigation system." Curiouser and curiouser
UPDATE 7/3/17 WE HAD A PLEASANT CONVERSATION THIS MORNING WITH A PARKS DEPT MANAGER, WHO ADVISED THEY WILL DO THEIR BEST, WORKING WITH THE CONTRACTOR PERFORMING THE JOB, TO CLOSE SEGMENTS OF THE PARK TO THE EXTENT POSSIBLE. LOGICALLY THEY MUST MAINTAIN PUBLIC SAFETY WHILE TRYING TO ALLOW REASONABLE ACCESS. NOW WE HAVE CLARIFICATION
UPDATE 7/1/17 You see now the sign is down, but of course we do not know why. Perhaps a park users act of frustration which does not help in any way. Maybe makani offering a "sign?" to ask for clarification?
UPDATE 6/29/17. This sign appeared on edge of parkland at parking lot yesterday. How do you interpret that? Is entire park closed for about five weeks? Some say yes- some say no.No press release from County. Messages left at posted number 270-7230 requesting clarification get no response. Negative seems to be the word.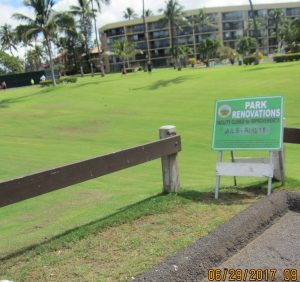 We suggest anyone interested read the numerous comments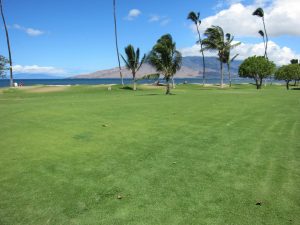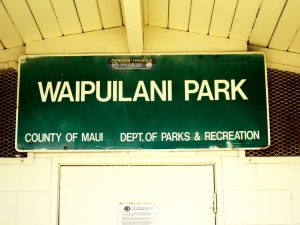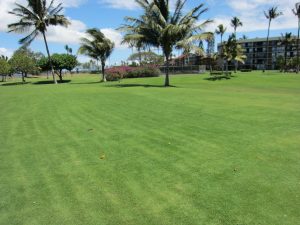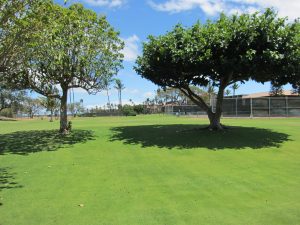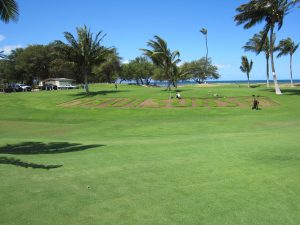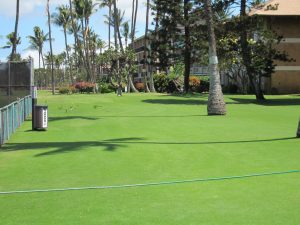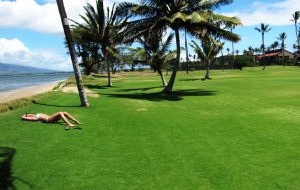 6/11/17 #kihei
Think of all the County Parks you visit. Which one has the best lawn, best grass? Did you say Waipuilani Park in North Kihei? Many guys do.
It is so well-kept that you may think it a private area because of the condition and the location: ocean front makai the Maui Sunset Condo on South Kihei Road. Nope. County parkland. County sign, parking lot, restrooms, tennis courts.
So why and how does the County Parks and Recreation Department keep this park's lawn so much better than almost any other.? AHA! They don't maintain it. See, at NO CHARGE to taxpayers the condo association has maintained it for decades. Yeah, but they must use a huge amount of county water to keep it so well. NOPE, they use their own well for irrigation.
So all of us park users get arguably the best kept park lawn for recreation, whether running, doing yoga, hula (dancing or with a hoop), dog play, Frisbee (human or canine), walking (barefoot?) or just sitting and enjoying the oceanfront view, sunset or any time. And we taxpayers do not pay for it.
Sound "broken" to you? Not to us either. So we ask why is this County department proposing to close the entire park on July 5 for almost two months to replace this free irrigation system, replace all the grass, and apparently take over the free lawn maintenance at taxpayer expense, initially spending over half a million dollars?
Did you see the county press release announcing and explaining this? No, we didn't either. Attend the public meeting announcing this? Nope, must have missed that too. So we have done some investigating and we believe it stems from wanting to use county furnished R-1 recycled water (which currently goes into an injection well due to insufficient demand).
You know we have a reputation as a strong environmental organization, and have long supported using R-1 water for irrigation, and we remember and reported when Goodfellow Brothers ran the purple pipes down Waipuilani from Liloa and across the mauka edge of the park northward. So is it better to switch from free slightly brackish well water to R-1? If so, is it better to remove a functioning irrigation system that is maintained at no taxpayer cost with a replacement for half a mil? Say WHAT!?!
We are calling for a halt to this project and for a community meeting in the area. After a grueling months-long County Council Budget Committee session hearing about how tight money was and cutting programs, how does this proposed expenditure fit? Like a square peg in a round hole.
Call the mayor 270-7855. Call the Parks Director 270-7230. Call your friends and tell them to call.
This video from Maui Sunset provides nice aerial views of the park.