Update  2/27/15 Quickly progressing, the pipeline work is now north of the gulch.
We do wonder why a waste water, (recycled product) can get ok to  transit a gulch which flows directly into the kai, while the Waipuilani bike path is delayed for years doing the same thing  see https://gokihei.org/environment/the-next-bike-path-for-kihei-waipuilani. Apparently as the pipeline goes under the gulch, it requires less authorization than a simple bike/ped bridge, and someone has decide this little gulch cannot be forded, as many S Maui roadways are.
UPDATE: 11/14/14 While the project "began" on 11/9/14, today (Friday) we saw a lot of activity, as the pipes that will transport the R-1  recycled water were delivered for storage near the beginning, as the line will extend from the existing location near the intersection of Waipuilani and Eleu Place makai to Waipuilani Park, north through the park, before returning back to SKR and extending north to near Kulanihakoi.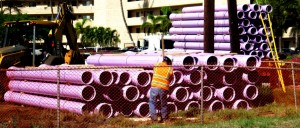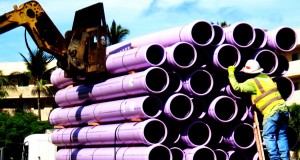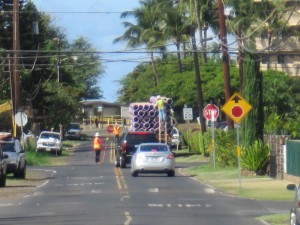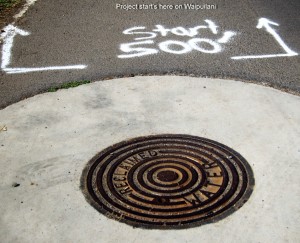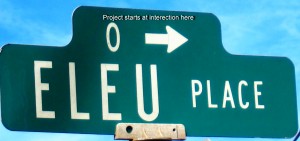 11/9/14 While we have always stated that we wish this division of the Maui County Department of Environmental Management had a more appropriate name, since this is a resource for the community, we are pleased to see the Wastewater Services and Information Division is finally extending the recycled water beyond the long standing terminus at Liloa and Waipuilani Streets (think end of the Kihei greenway.) For years KCA has advocated this extension of distribution of this R-1 level recycled water which is rich in nitrogen to locations where is will be used for irrigation, and not pumped into the aina via injection wells, to then seep into the kai increasing algae growth and seaweed to choke our coral reefs.
This Monday (11/10/14) construction work will commence by Goodfellow Brothers along Waipuilani and So. Kihei Roads installing waterlines, which will ultimately bring this resource to the many condominiums as far north as Kulanihakoi St
So you know the drill, seek alternate routes, use caution, but realize what a positive action this is for our community on numerous levels, and respect the relatively minor inconvenience for a while More info on construction, call 879-8868.More on recycled water call 270-7417.