UPDATE 11/9/16  So is this it? No more "whoops" here's a few more we found under someone's desk? Well they tell us this it the FINAL, and yes Kelly has pulled the upset  and will be South Maui's rep for the next two years. Further the added votes did change an outcome, as many went to  bed believing Dain Kane was back on the Council, but no, Alika Atay will represent the tri W area, and this duo will be joined by Yuki Lei  (Upcountry) as a trio of new voices merging with six returning incumbents. IMUA!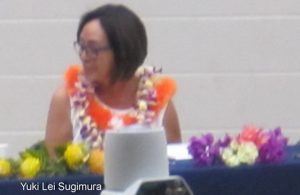 UPDATE 11:51 PM  OK, so did Dewey win? Truman?  Sorry guys, we do not know 100% sure We did our best to determine,and the 4th readout did not change the S Maui result but with three potential lead changes hanging in the balance, there was no way we could find out for sure if there remain any more uncounted votes. But for tonight Kelly King has won. Imua!
Kelly King is the new South Maui Resident Council Member
Ballot Questions approvals also offer direction for governance,
Term limit rules dictated two new council members, but the voters could decide if they wanted to replace any of the seven running for re-election. History told us incumbents are seemingly impossible to unseat, but seven Maui citizens challenged the long odds, but only the S. Maui one prevailed. Several races were extremely close.hundreds of votes of separation.  
In an extraordinary close race, Challenger Kelly King took an initial slim lead in the first (early voting) readout, held an even slimmer one after the second reading. So all anxiously awaited the final totals to determine who reprehends our area for the next two years. So when the final result was announced shortly after 10:00 PM, a razor thin margin revealed that long term Kihei resident and small business owner Kelly King succeeded in her first attempt at the County Legislature Office.BUT WAIT! HOLD THE PRESSES! QUIET THE FAT LADY SINGING WTF?? They just found 2000 uncounted ballots! Are you kidding me? So what happened?