Kamaole Grand: 6:30 PM at St Theresa's Church Hall on 2/9/17.
#kihei




KCA Board nearly had a quorum along with several members.
UPDATE 2/9/16 The required public meeting for land owners within 500 ' of the project had about sixty guys in the room at St T's Church for the power point presentation delivered by the CHP team, who probably composed about 15% of that total.
The public comments and questions mostly centered on additional traffic concerns, view-plains and who was expected to reside there.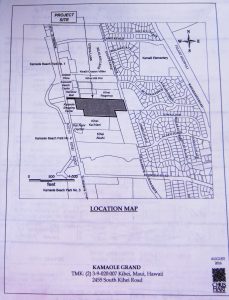 JAN 31 2017 . We offer a mahalo to Chris Hart and Partners (CHP) for alerting us to this just announced meeting for the Kamaole Grand proposed project. This goes above and beyond the legal requirement to advise all property owners within 500′ of the project (which they are doing via US mail)
The public is invited to this discussion.
The KCA Design Review Committee did review the proposed project back on 1/19/2017 (see https://gokihei.org/environment/first-2017-design-review-committee-meeting-examines-kamaole-grand-condo-project-for-south-kihei) and it was reviewed by the County Urban Design Review Board prior to that (see https://gokihei.org/news/another-new-condominium-project-proposed-for-south-maui-kamaole-grand).