UPDATE 8/5/20 Signage updated. Seems someone decided to update the signage after eleven years, as we encountered this change this morning at Kalama Park.
HAPPY TENTH ANNIVERSARY TO "RESPECTING CORALS REEFS" SIGNS ALONG THE SOUTH SHORE
4/26/19 #kihei #southmaui
Ten years ago this month the Kihei Community Association was a major participant in this marine educational project. While many for-profits covered the cost of a sign, our all-volunteer. non-profit not only did so, but we also installed many of them at Kihei beaches and parks.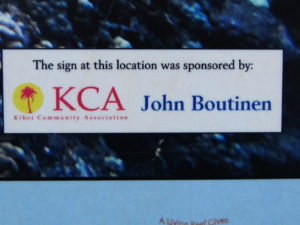 We photographed an example of the signs this Friday morning on the north side of Kalama Park. The colorful informative signs proved to be durable, as some had expressed concern about how well they would endure the Kihei sunshine and being right next to the kai (sea).
Unfortunately, what they represent, our coral reef infrastructure has not held up nearly as well.