5/6/17 #kihei Update on hemp issues included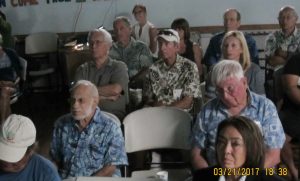 At our latest public community meeting, guest Vince Mina presented the non-profit organization HFFU which supports small farmers, although membership and support are not restricted to farmers. The Mauna Kahalawai chapter has monthly meetings on the second Thursday of each month at 5:30 PM at Maui Tropical Plantation. BUT NOT IN JUNE. On June 8, they will be at the Kihei Charter Middle School on Lipoa Street (yes, where we meet). So put it on your calendar! The topics and speakers are always interesting, there is a variety of food to enjoy, and you can pick up fresh, organic produce. Entry is $10 for HFUU members, $12 for non-members, or free if you bring a potluck dish to feed six people.
See https://hfuuhi.org/ for more info about HFUU.