A Board with County, State and Federal Representatives for Maui Transportation Planning
6/26/20 #kihei
The Maui Metropolitan Planning Organization (MPO) was established over four years ago with an initial meeting on May 4, 2016, and yes, the Kihei Community Association was there. The board was composed of three County Council members, three county administration directors and a state Director of Department of Transportation (DOT). At the initial meeting federal officials were also present. An Executive Director, Lauren Armstrong, was hired by September. Per their website, the Maui MPO "facilitates regional and local surface transportation planning by serving as a forum for collaboration among local communities and government agencies." (mauimpo.org).
Over the years the makeup has changed with a variety of individuals filling those slots, as well as the recent addition of two state elected officials, a Senator and a House Representative.
KCA participated in almost all of the meetings for the first year.
The participation of KCA has lessened over time, as we found little progress made toward creating multi-modal transit options, as stated in our community plan, for south Maui during these past four years.
We did try again in December 2019 by testifying but saw no positive outcome. We made another attempt Friday, June 26 in a virtual meeting with the MPO, along with citizens from the west side, to advocate for bicycling infrastructure. Now would be an ideal time for such construction as tourism and traffic is at an all time low.
We see the sport of bicycling exploding all over the country, and bike retailers quickly sell out of products. But our request to consider Southside bicycling infrastructure was never discussed and worse yet, a proposal for a greenway for the western side of Maui was withdrawn, likely to the dismay of those attending from that same area.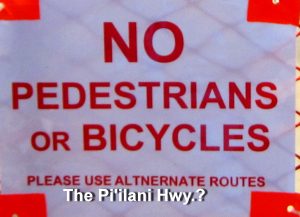 Perhaps progress for multi-modal transit construction for south Maui will improve when there is a new set of board members with new leadership and we can try again.