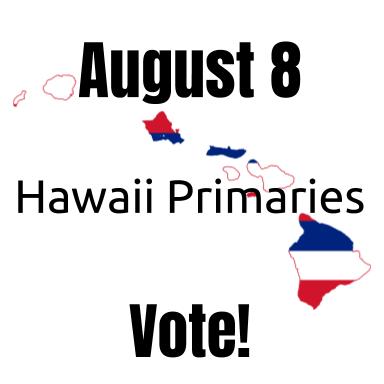 #kihei #primariesareAugust8
UPDATED 6/25/20
06/23/2020
Election year 2020 has a lot of new faces in the political races so it may be hard to choose. What may make it harder is that Hawaii allows registered voters to choose candidates without regard to party affiliation for almost all state and federal positions.
Hawaii's voting process is a little different than other states so this is a review of some unique features, such as its nonpartisan voter registration and open primaries.
Party Affiliation Not Needed
The state of Hawaii has nonpartisan voter registration. A voter does not have to select a party upon registration.
Nonpartisan races are county council members, mayors, and county positions such as prosecuting attorneys, positions within the state department, and for the Office of Hawaiian Affairs (OHA). Identification of party affiliation is not necessary for candidates in these races.
Open Primaries
A primary is a "first" voting round which determines which candidate will run for which party. Hawaii has open primaries for US Senators and Representatives, as well as State Senators and Representatives. This means the voting public selects the party of their choice, and then chooses the candidates to represent that party. "The Primary Election is held to nominate candidates to represent the political parties in the General Election. This nomination process, called a Single Party Primary, asks voters to select candidates from the party of their choice." (elections.hawaii.gov). The candidate who has the most votes for each officially recognized party will appear on the general election ballot in November.  
Nonpartisan candidates advance to the general election under certain conditions.
Non-partisan candidates for state or federal positions may appear on the general election November ballot by one of two methods.
"…
 

Method 1: receive at least 10% of the votes cast for the office (during the primaries).

Method 2: receive a vote equal to or greater than the lowest vote received by the partisan candidate who was nominated (during the primaries).
If more nonpartisan candidates qualify to run in the general election than there are seats available, then the nonpartisan candidate who receives the most votes will appear on the general election ballot."  (https://elections.hawaii.gov/candidates/nonpartisan-candidates-in-partisan-contests/).
Using these calculation methods there will be only one nonpartisan candidate per contest, if there are any at all.
The primary vote is scheduled for August 8 this year. 
Closed Primaries
On the other hand, Hawaii's primaries for the presidential election are closed primaries.  This means only representatives of political parties recognized by the state may submit their party's choices for president and vice president. These choices are submitted in September for the general election which is held in November.
General Election
November 3, 2020 is when Hawaii will hold its General Election.
"The General Election is a candidate contest, meaning that voters may vote for the candidate of their choice regardless of partisan and nonpartisan affiliation. Voters will select federal, state, county, and Office of Hawaiian Affairs candidates, as well as Constitutional Amendments and Charter Amendments." (https://elections.hawaii.gov/).
VOTING CALENDAR
July 9 Voter Registration Deadline

July 21 Primary Election Ballots Delivered

July 27 Primary Voter Service Centers Open

August 8 Primary Election

October 5 Voter Registration Deadline

October 16 General Election Ballots Delivered

October 20 General Voter Service Centers Open

November 3 General Election
For voter registration information or to request a replacement ballot, contact your County Elections Division.
County of Maui (808) 270-7749
State of Hawaii Office of Elections

Telephone: (808) 453-VOTE (8683

Neighbor Islands Toll Free 1-800-442-VOTE (8683)
Email: elections@hawaii.gov
Website: elections.hawaii.gov