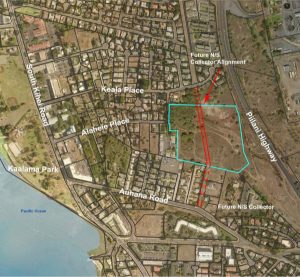 Keokea Kai Workforce Housing Project would offer 112 units by Alahele Pl. in South Kihei
5/26/21 #Kihei Yesterday afternoon (5/25/21) the KCA Design Review Committee (DRC) received a presentation by the team led by landowner Thomas Fairbanks of the project located on 14 acres at the mauka end of Alahele Pl. Our committee truly appreciates developers who bring a project concept to us early in the process so our input may reasonably be considered. This was offered as a very early conceptual presentation and the team did advise us that there are existing challenges going forward.
They proposed 112 units in a variety of fee-simple dwelling units contained in 24 buildings with three different housing types: Multi-family, duplexes and townhomes. The property has the following entitlements or restrictions:
*State District: – Urban
* Maui Island Plan – within the Urban Growth Boundary
* Kihei Makena Community Plan – Single-Family
* County Zoning – R-2 Residential
* Special Management Area – the property is entirely within the SMA; thus needs a permit to proceed
* Flood Zones – X, AE, XS
The plot is divided by the North South Collector Road corridor but road construction for that segment is not part of the project. Based on the county's historical actions for this road, we would expect it could be decades before this segment would be built. It seems apparent that unless there is ingress and egress in addition to Alahele at S. Kihei Road, it will not succeed.
KCA will offer input to the developer with salient points based on our observations and look forward to future meetings and presentations concerning the project.
Our district is in dire need of homes for our working residents which this project may offer. We again urge the county government to provide the long delayed transportation infrastructure which may delay or even prohibit new housing developments for our residents.