KCA Advocates for Affordable Housing to be Included
2/19/20 #kihei
Tuesday, February 18 we welcomed David Goode from Ledcor Construction, as well as Munekiyo-Hiraga's Mark Roy to office of the Kihei Community Association for an early consultation for a large residential project planned for northern Wailea.
The mixed residential project will include 281 units, including some transient vacation rentals. This project will be constructed on land along the Pi'ilani Highway, mauka of the Wailea Blue golf course.
"Under the name Wailea Resort SF-A/MF-12MF-13 Partners, this is a 46.2 acre plot
See ("Design Review Committee Examines New Housing Project…" October 2019). for a related project from the same firm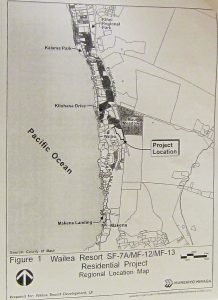 There is no plan to include affordable housing in the project, as they have credits from prior development.
However, we advocated that they examine some way to include some, even if not required by law. They agreed to explore that option.
We commend them for approaching the Kihei Community Association at this very early stage.
The Design Review committee discussed the offering and will offer a comment letter soon. Later in the year, the partners of Ledcor Construction and Munekiyo-Hiraga will return and present KCA with an update.