UPDATE  12/20/14  Having indications that after numerous efforts most of this week, the DPW signal technician may have solved the challenge to assure that the flashing beacons would remain functioning properly, we monitored all four signals several times this morning, and they have continue working properly. We will continue to test them, but seems the strong community effort has reaped a dividend.
However this experience watching a major challenge to insure pedestrian, MOSTLTY SCHOOL CHILDREN, safety crossing a roadway, with the failure of  relatively new signals, offers even more impetus  to our demand that a pedestrian/bicycle underpass be included as a requirement of the DOE Kihei High School construction mauka of the Pi'ilani Highway.
This week we had some community contact concerning the failure of all  the pedestrian crossing signals at our roundabout. The first report was on Tuesday (12/16) that all were dormant, so we contacted the Public Works Department. The next day we had more reports that none were working, & reports of "close calls" with keiki heading to the two area schools that morning. So we performed a series of prudent actions, as we felt this was an urgent matter with both schools set to dismiss at 2:00 PM.
Wednesday evening we were requested to report the outcome and what KCA had done on the matter, so we reported to the resident that as an all volunteer unfunded organization we have limitations, but our efforts included several calls & emails to Public Works, call to Mayor's office (never return in spite of assurance that EA would call) and MPD Office , calls to both area schools, as well in personal observation at site & conversation there with DPW engineer working on repair,who advised they were now working, but he had been out previously, and got them working, but they continue to fail soon afterwords. He said he would return later in the day to check. This report brought forth the comment of suggested name change.to Kihei Community Action.
Sadly next input was today, that when kekei were crossing to attend schools this morning, none of the signals were working, and there was no police presence. We again reported concerns to DPW and MPD, and are aware that after  1:00 PM all signals were operating correctly, but now wonder for how long. We had an answer when MPD advised us about 4:00 PM that none were working when schools dismissed this afternoon.  
 This evening DPW advises the challenge is obtaining info about the workings of the system which the county assumed from the contracted developer, and obtaining any needed replacement parts, as all DPW is able to do is get them to function for about a hour before they all fail again.
Good news in tomorrow is last day of school, but bad news here come all the holiday visitors with no solution in sight.
KCA has asked minimally for signage alerting drivers all systems are down at roundabout,  & to be extra vigilant  for  any pedestrians & bicyclists.
Please spread the word!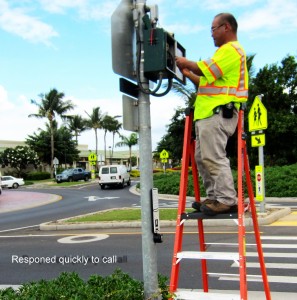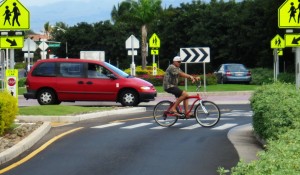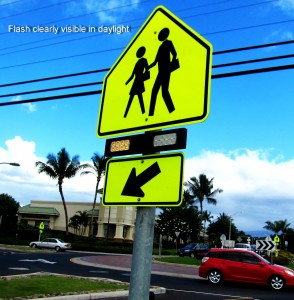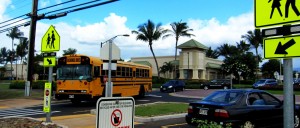 . Â  Â  Â  Â  Â  Â  Â  Â  Â  Â  Â  Â  Â  Â  Â  Â  Â  Â  Â  Â  Â  Â  Â  Â  Â  Â  Â  Â  Â  Â  Â  Â  Â  Â  Â  Â  Â  Â  Â  Â  Â  Â  Â  Â  Â  Â  Â  Â  Â  Â  Â  Â  Â  Â  Â  Â