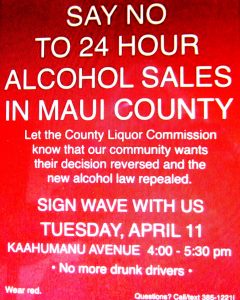 4/11/17 Planning on participating? Good. Can more be done? Yes Sign the online petition
https://www.change.org/p/county-of-maui-liquor-commission-repeal-24-hour-alcohol-sales-in-maui-county?recruiter=40513482&utm_source=share_petition&utm_medium=email&utm_campaign=share_email_responsive
Call: the County Liquor Commission: 244-4660. Email them : liquor@mauicounty.gov
We expect a large turnout protesting Mayor's approval of 24/7/365 alcohol sales without any community awareness or discussion by County Liquor Commission.
4/9/17 #kihei When word got out that the County Liquor Commission changed the rules to allow continuous sales of alcohol beverages, the general reaction was "What? When? Why? Who said so and approved such a change? Did you know? Did anyone know?".
Except for these nine commissioners, who are appointed by the mayor, and the mayor who approved this action,we find no one who was aware. Maui Police Depatrment? NO. County Council? NO. Bar, restaurant and retail sales businesses? NO. Media? NO.
So now a coalition of community organizations and individuals known as the COALITION TO REPEAL 24 HOUR ALCOHOL SALES (the Coalition) has organized a sign-waving demonstration on Ka'ahumanu in front of the shopping center commencing at 4:00 PM this Tuesday (4/11/17). Wear red.
While these secretive changes by this county commission were much more extensive that just opening up sales all day every day, the Coalition has decided to concentrate on this single aspect.
For KCA, we see the entire process of control of alcohol sales by a County Administration Department of Liquor Control under director Glenn Mukai, this County Liquor Commission, the Liquor Control Adjudication Board and County Charter Chapter 13 need to be examined and revised.