5/5/19 #kihei
Did you know that May is National Bike Month? National Bike Month is sponsored by the League of American Bicyclists, which was founded in 1956. The intent of this month was to encourage more people to give bicycling a try and to discover the many benefits of cycling.
Additionally, back in 2003, a worldwide event was established to honor bicyclists who were killed while cycling. A ghost ride is a memorial group bicycle ride as a tribute to fallen cyclists, and the "ride of silence" adds the solemn feature that the riders ride in silence, usually without headsets.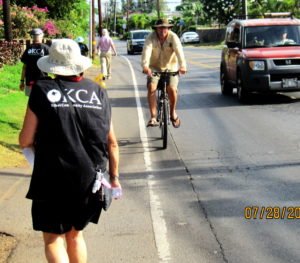 On Maui, The Maui Bicycle League (MBL) has once again organized a memorial ride for Saturday, May 18 starting at 9:00 AM at Boss Frog's Rentals, 1770 South Kihei Road, near Kalama Park. The riders will then proceed on the bike path alongside the Mokulele Highway to the Target parking lot and then return to the origin.
This is NOT a Kihei Community Association event but KCA has been an advocate for bicycling for decades.
We do support the Maui Bicycle League, so we offer this information to our community. You can find out more information at mauibike.org/events.