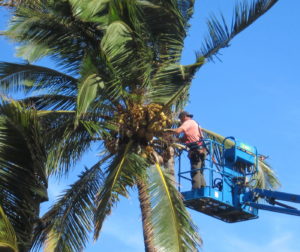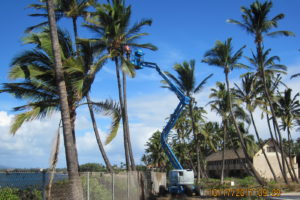 10/17/17 #kihei
You may recall this latest version of the refurbished visitor development by Hilton was expected to break ground JAN 2016, then JAN 2017 and now JAN 2018. Time will tell.
But this morning this brave man was trimming many of the towering Coconut Palms along the North Kihei shoreline with fierce tradewinds blowing. Will the "new" Maui Lu keep him working?
Over the last month or so many of these same trees have had a hot pink ribbon stapled to them. As best as we can recall many of the same ones had red paint marks on them about two years ago.
Many in the community have expressed concern that these marked trees will be removed, but we have no definitive information. But overall we feel trees across the entire facility, not only these coconut palms but several very senior spectacular monkeypods in the mauka area should be preserved in place, adding to the natural beauty of the new development.
In Kihei, too often we seem to end up removing, butchering and failing to even replace all type and shape of trees. Public and private areas; parks and parking lots – with all the benefits of trees, why is there a war on Kihei trees? We now see in the residential areas along the Pi'ilani Highway where so many Monkey Pods were removed and hacked – see a-visual-aesthetic-monstrosity – now there go the shower trees. What is up?