Our June 17 public general membership meeting opened with an update on KCA Director Mary Trotto's athletic accomplishments on the mainland, as published in Saturday's Maui News, then moved on to reading the update statement from Sarofim Realty Advisors of Dallas Texas on their Pi'ilani Promenade . Text is show below. with comment. Moran announced an upcoming 2014 community meeting on the entire Kaonoulu area.
Next up was establishing of our three legislator guests, and an opening statement by State Senator Roz Baker. Interspersed between the other two officials, Kaniela Ing and Don Couch was an a update statement supplied by Maui Electric (MECO) shown below and an announcement that KCA BOD will be meeting with the developers  of  Downtown Kihei, the Krausz Companies of California, later this month, to be reported on this KCA website.
Then the meeting was open to the members and guests for questions of the three elected officials.
The July 15 meting will feature all of the candidates vying for the three position represented at this meeting senate district 6 , house district 11, and the South Maui residency spot of the County Council.
Look for a professional report soon in the Maui Weekly.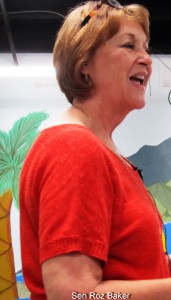 Written statement from Maui Electric (MECO) as requested by KCA and read to the well over 120 attendees: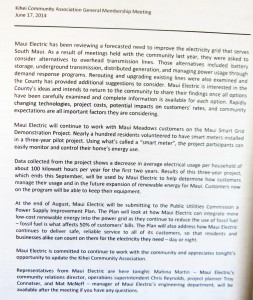 Written Statement from Sarofim Realty Advisors as requested by KCA and read to the attending audience.  NOTE: We are compelled to state that this same missive was submitted to various Maui media as a press release, stating  "  Piilani Promenade Joins with Kihei Community Association to Update Community " To be  clear we had no input in this statement. It was 100% from Sarofim and their representatives, and representations in media that it was an update (we see it as same information from 2013, so upadte nothing ) and that it was joint release (It definitely was NOT) should be apparent.