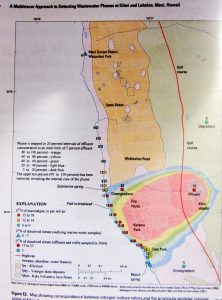 USGS testing back in 2009 offered startling data- why does this remain in hiding?
We have reported recently on a new scientific report comparing marine water quality of Lahaina and Kihei, revealing Kihei waters in dire condition.  SEE https://gokihei.org/environment/mnmrc-at-hihwnms-with-phds-on-skr-inviting-kca      This report brought forth a community advisory of a United States Geological Survey (USGS) from the Department of the Interior in cooperation with (again!) the State Department of Health- Clean Water Branch (DOH-CWB).  Here is the link to the abstract on the USGS website.
http://pubs.usgs.gov/sir/2009/5253/ . Â  Â Â You can further explore the entire document from there.
If you go by the Kalama/Cove Park area any morning you see a large number of guys in this water, vast majority novice surfers on surf school boards learning under the direction of the commercial businesses. The expectation is most of these are visitors, who are completely unaware of the water conditions. Further in a County Park, the business must be CORA permitees, paying the County Government a fee to conduct business there. Is not the County government aware of the water conditions? Are the businesses aware? How about the local guys on the Cove Park side?
Obviously the DOH-CAB is aware; it is their information seven years ago as well as currently, and the data is on their website. But when was the last time you looked there to check the water quality where you and your ohana recreate?
We know County Council and Administration are aware, because we alerted them. We know the media is aware, as we had two letters published this month in the Maui News on this concern, and Maui Time covered the issue, twice in last two months. Does the Chamber of Commerce know? How about the Visitors Bureau? But we see no change.
Are people getting ill? We know many who have experienced infections, but how does one know or can verify the cause. Visitors ? Who knows what happens when they return home?
Watch for the lawsuit. That always gets everyone attention.