To follow up after receiving recent community feedback a few months ago, representatives of the Hawaii State Department of Transportation (HDOT) offered an update at Kihei Elementary school on Lipoa at 6:00 PM on Tuesday, 8/5/14. of the Statewide Transportation Improvement Program (STIP.) Your Association had three representatives there to listen and ask questions at the very sparsely attended event. With a total of fifteen guys in the cavernous cafeteria, once you accounted for three HDOT from Honolulu giving the presentation, and Maui's HDOT guy Freddie Cajigal, Engineer Nolly from County DPW and Council member Don Couch, beyond KCA, there were six members of the public, including Raymond Cabebe from Chris Hart & Partners (CHP), Jonathan Starr, Rory Frampton, and Bud Pikrone from Wailea Community Association (WCA.)
One reason for manini interest is the apparent lack of any significant influence the public comments have on the decisions of the HDOT about what Maui County transportation projects the state agency will select to try to secure federal funding.
Strong disappointment with the process is most significantly reflected in out decades long effort for completion of the North South Collector Rd. across Kihei. Two segments of the route together extending from Kaonoulu St southward to Auhana Rd, with a project total cost of $32 M, are now listed for 2019 and 2020!
With the predicted impending storms, the remainder of area meeting throughout Maui County were canceled by HDOT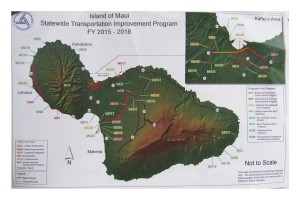 , as they returned home to Oahu.