Impressive Facility Should be Open for Holidays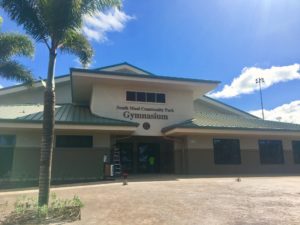 The South Maui Community Park Gymnasium has removed its dust fence, the landscaping is growing underfoot and final task-lists are getting checked-off. KCA Recreation Committee Chair, Andrew Beerer got a sneak preview with Sam Marvel (Parks Planner) and representatives from PB Sullivan (General Contractor) Blazy Contruction and Nishikawa Architects.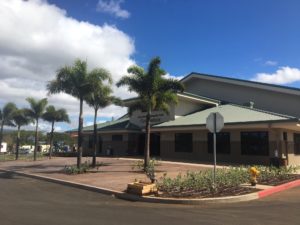 It was great to also see some familiar faces in young local kihei-grown men working on the project, specifically assembling bleachers on this day. The facility features PV electric, A/C, beautiful hardwood court surfaces, multiple floor/seating layouts and high-tech roll-up dividers, large bathrooms/locker room facilities, offices, storage, auxiliary rooms, a commercial kitchen with roll-up window and ticket booth.
See the 08-17-2017 Groundbreaking