UPDATE 10/1/14.   As advertised (below) we have submitted our comments on the Draft EIS and submitted to all the proper recipients  in a seventeen page document  seehttps://gokihei.org/wp-content/uploads/PiilaniPromDraftEISesponseV2b.pdf . Now we all wait..
UPDATE 8/20/14    Sarofim Realty Advisors of Dallas, Texas have offered a new Draft Environmental Impact Statement (DEIS) on this notorious project. KCA again will begin analyzing and reviewing this lengthy document for our community. Our intention is to submit  comments to all involved before the cutoff date  of October 7, 2014
7/23/14 Â  Â Viewing the last update on this ongoing saga called Pi'ilani Promenade, Mega Malls or Kaonoulu, you view the KCA letter submitted regarding the Draft Environmental Impact Statement on this controversial development in North Kihei. https://gokihei.org/news/now-this-is-an-update-on-piilani-promenade. Â  KCA Letter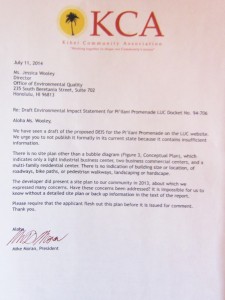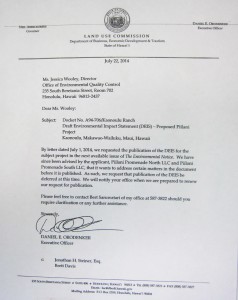 Now we see the LUC has also requested that the DEIS publication be deferred  "at the request of the applicant.."
So what caused the developer to make such a request of the very document that they submitted? Was it because of the comments submitted to the State agencies by KCA and others?
If you note the comment offered here by Charlie Jencks regarding his removal of the fabric from the fence erected years ago in anticipation of impending construction of the Pi'ilani Promenade, before the State Land Use Commission (LUC) stopped it awaiting return to their regulating body by the land owners/developers, we offer some graphic of the result.