7/16/19 UPDATE—TONIGHT AT 630 PM
7/7/19 #kihei
General Membership Meeting
The Kihei Community Association will hold its general membership meeting on Tuesday, July 16, at 6:30 pm at Saint Theresa Church, which is at the corner of Lipoa and South Kihei Road. The Association holds six public meetings, which are open to all of Kihei's residents regardless of membership status, on the third Tuesday of every other month, beginning with January. All meetings are free but the KCA does request non-perishable food donations for the Maui Food Bank.
Meeting Topic: Recycling
The environment is one of Kihei's top concerns, so Kihei Community Association requested the Department of Environmental Management to provide guest speakers, due to member concerns regarding two segments of environmental management: 1) recycled water, also known as R-1 water, and 2) solid waste. Both topics are frequently discussed but facts and data are important and misinformation can occur.
The new Department Director, Eric Nakagawa, has agreed to be one of the speakers. Nakagawa will address the matter of recycling water, as this was his field for many years before his promotion to director this year. This discussion should include the Kihei water treatment plant; injection wells; where and how R-1 water is used, including the potential additional uses of this resource.
Tamara Farnsworth, Division Manager at Environmental Protection and Sustainability, County of Maui, will lead the discussion on proper waste disposal of man-made materials and how the landfill is impacted by these habits. In Kihei, there a few select neighborhoods in Central Kihei and Maui Meadows that have been part of a "pilot project" for a long time. In fact, the once-canceled project was reinstated as of August 2015, but with no new updates as of the date of this article. This project is known as the "three-can-plan" where residents would pre-sort their household waste for curbside recycling for a $6 monthly fee.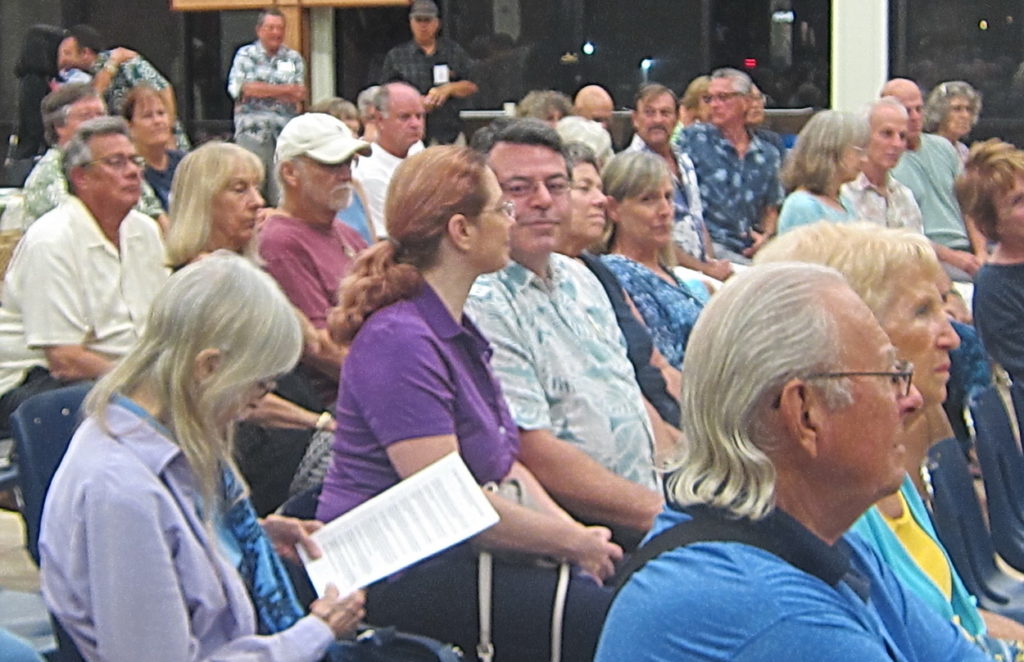 Yet the majority of South Maui citizens still have to personally haul anything that can be recycled to a recycling center. This has its added challenges. According to the lengthy rules of sorting, the aggregated collectibles must be pre-sorted correctly, according to number and type, newspapers must be separated from magazines, which are NOT now accepted, and plastic bags must not be included with plastic bottles, and lids from bottles must be removed, food containers do not count, milk jugs count, some juice bottles do not count, etc. Many visitors to the Kihei recycling center do not follow all these rules, possibly because of the overwhelming amount of detail required to simply correctly sort everything.
However, the other option of just throwing all the recyclables in at once, all together, and assuming someone will take responsibility for sorting is not realistic. What happens to these materials? Is anything recycled on Maui? in Hawaii? Since China no longer accepts garbage to sift through for usable materials from the United States, does Hawaii still export? If so, to whom?
Bring any questions and concerns about recycling to this meeting.
Please also bring non-perishable food donations for the ongoing Maui Food Bank campaign.
Volunteers and Memberships
We always receive requests to discuss more concerns than is possible within six general membership meetings per year. The number of meetings we hold could increase, and therefore we could cover more matters, but that depends on active membership. If we had a lot more volunteers we could possibly cover additional issues which concern the Kihei community.
What, you are still not a member? NOW is the time to join to take advantage of the limited-time 40% discount of membership from $25 to only $15. Join now by visiting the welcome table at check-in at any meeting, or join online on the KCA website. "Mo' members, mo' betta community". If we have no members, we would have no association. Then who is going to do all this stuff?