UPDATE 5/1/17 SO THE NEXT MORNING WITH NO MORE RAIN, PUBLIC WORKS IS OUT AGAIN TO CLEAR SKR, NECESSITATING CLOSURE BETWEEN KA'ONO'ULU AND OHUKAI RDS. EVEN AFTER WELL AFTER TEN AM, NORTHBOUND TRAFFIC BACKS UP AT KA'ONO'ULU AND HWY, AS VEHICLES WAIT CLEARANCE TO TURN LEFT ONTO HWY.
UPDATE 4/30/17. Now it is NOT raining, and has not rained for several hours in No Kihei. But obviously water is pouring onto Ka'ono'ulu Rd from the Kulanihakoi gulch flowing makai.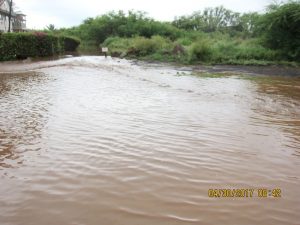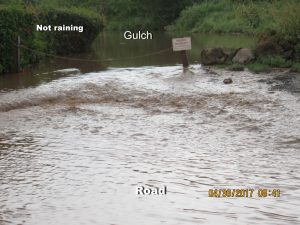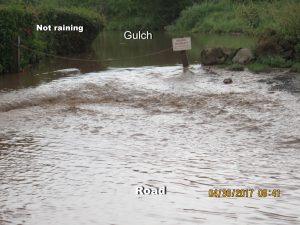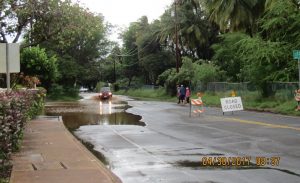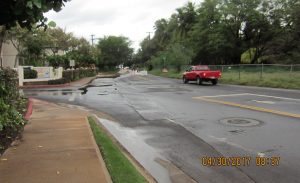 Ka'ono'ulu and SKR floods again & SKR was closed. Is this a community concern to discuss with Public Works?
#kihei 4/29/17
Shortly after 9:00 AM this morning, South Kihei Road fronting the closed Maui Lu Resort ( & what is going on with THAT?) was being reopened with shallow flooding remaining, after the hard working DPW crew brought the level down to driveable. When the deluge began about 5:00 AM in North Kihei, all nearby residents knew this would happen. The only question is how deep and how wide.
There are many reasons for this recurrence, but is there any solution short term? Long term? This is just one of many issue and concerns that will be addressed to DPW Director David Goode in a few weeks (5/16, 6:30 PM) at next month's KCA general membership meeting at the Kihei Charter School location on Lipoa.