Series of Talks at Well Attended Meeting
2/28/20 #kihei
The Kihei Community Association representatives were invited to attend the Ma'alaea Village Association (MVA) meeting held within the Ocean Sphere room at the outstanding Maui Ocean Center on Thursday, February 27, 2020. There was a stellar panel of presenters concerning coastal erosion.

Ma'alaea is included in the Kihei district and is named specifically in the bylaws of the Kihei Community Association. Coastal erosion along any point of Ma'alaea Bay is a direct concern for the Kihei community and so the chance for the KCA to hear the discussion was welcomed.
The meeting began with a greeting from Ma'alaea Village Association president Lynn Britton, who then introduced fellow board member Peter Cannon. Cannon recalled for the audience the history of Ma'alaea, which was once an ancient fishing village.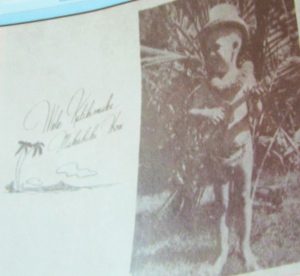 Afterwards, coastal geologist, and friend of KCA, Tara Owens from the University of Hawaii Sea Grant program on Sea Level Rise and Coastal Erosion for Maui Island & Maalaea spoke. She was followed by Dr. Mike Foley, Coastal Engineer, Oceanit, Inc. Shore Protection.
Other speakers included Andy Bohlander, Coastal Scientist, Sea Engineering, Inc. State of Hawaii Regulations and Permitting; Sam Lemmo, Administrator, Hawaii Department of Land and Natural Resources Office of Conservation and Coastal Lands; and from the County of Maui Planning Department, Jim Buika, Coastal Resource Planner and Michele McLean, Planning Director, County of Maui Planning Department
Buika and McLean together shared the presentation entitled "County of Maui Proposed Shoreline Rule Changes as Managed Retreat". Buika followed that with an address regarding "Maalaea Required Planning Process Path Forward based on Kahana Bay".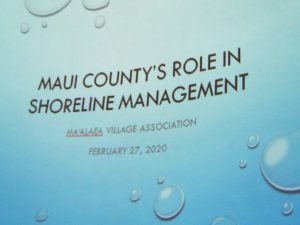 A question and answer session concluded the meeting, which was very well attended.
It was standing room only.