WILL SOUTH KIHEI ROAD (SKR) LAST UNTIL (IF?) THE NORTH SOUTH COLLECTOR ROAD IS COMPLETED?
UPDATE 2/21/18 JUST THREE MONTHS SINCE THE INITIAL COLLAPSE, MORE RAIN, MORE EROSION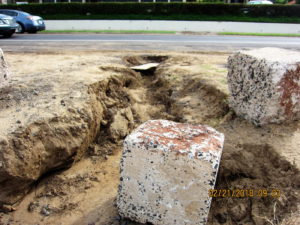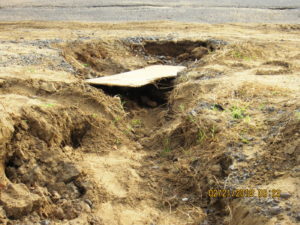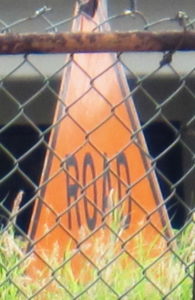 12/21/17 #kihei
As decades pass without ever achieving connectivity of the various segments of the North-South Collector Road (NSCR), for a variety of reasons over this same span of time we watch the integrity of SKR erode and collapse. Observing a snail's pace race, we are left to wonder who will win… or lose.
This morning an observant trouble-shooting County DPW worker spots that the squared rocks have dropped off the narrow road shoulder onto the beach, as the pavement under them has collapsed, probably stimulated by the latest episode of flooding. He quickly. places a caution sign at the spot.
Beach erosion; sea level rise; climate change; frequent flooding all likely play a part in causing more locations giving way. Will the NSCR be in place in time, or will the ever increasing population all be on the Pi'ilani Hwy?