UPDATE This evening, (4/7/15) we attended the NextEra public meeting at KCC concerning the take over of electric utility in Hawaii and were disappointed. The format was an open house, with lots of fancy signs and NextEra people standing around waiting to speak with residents one at a time, so there was no presentation or public discussion. We view this format as preventing attendees from hearing what the rest of the community has to say, and limits media reports from doing this as well.
The first person we met was a PR person who told us the purpose of the meeting was for NextEra to get to know their customers. She had no information about what they are proposing for Maui, except that they "support solar," but she couldn't say how they plan to support it.
She handed us off to a MECO engineer to answer our question about customers with current solar contracts. He said that customers with Net Energy Metering contracts now will not see any changes. He also said that now is a good time to get rooftop solar permitted by MECO and installed and to notify anyone who had trouble getting okayed by MECO in the past that they should reapply now.
When we asked for more specific information, the PR person found another NextEra person to answer our questions. As we approached her, another Kihei resident was complaining to her that the open house format did not provide any new information or allow for public discussion.
So what are NextEra's plans for solar on Maui. She said they "support solar." As to specifically how NextEra will support solar on Maui, she said that they plan to increase rooftop solar three times the existing by 2030. Mentally estimating that with 10% now, that's only 40% 15 years from now. We concluded it was absurd, but in true PR demeanor she she replied, isn't that great!"
When asked what they plan to do to lower Maui's high rates – they don't know yet.
We inquired how much her rates in Florida are. She said $0.09 per kwh (compared to our $0.32 per kwh). Does NextEra plan to lower Maui's rates to $0.09 per kwh ?She laughed. "That won't happen here. We have nuclear and LNG and other options in Florida." They don't know how much lower, but are hoping for a 10% decrease (so if you are paying $200 a month now, that would decrease to $180.)
You may recall our previous meeting with NextEra was when they were bidding for contract to construct undersea cable from Maalaea Harbor to Oahu, so we inquired where they were on that proposal now. It's being reviewed now by the PUC she said. We strongly expressed that the community does not support the cable because of environmental concerns and she said it's up to the PUC to decide because it's too complicated for untrained people to understand..
All in all, it was not any more substantive that MECO's recent meetings, and the few facts they were willing to reveal are not promising for Maui. But we did get a bunch of free brochures from them.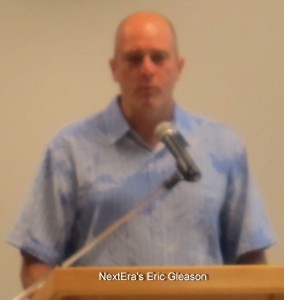 NextEra Energy, HECO to hold public meetings
March 24, 2015
NextEra Energy, which is seeking to merge with Maui Electric Co. parent Hawaiian Electric Co., will be holding public meetings with HECO in Maui County from April 7 to 9.
The meetings are intended to introduce residents to NextEra and to explain the merger.
"Since we announced our merger late last year, we've been gratified at the reception we've received as well as the high level of interest in this important topic for Hawaii," said Eric Gleason, president of NextEra Energy Hawai'i LLC. "NextEra Energy shares Hawaiian Electric's vision of increasing renewable energy, modernizing its grid, reducing Hawaii's dependence on imported oil, integrating more rooftop solar energy and, importantly, lowering customer bills.
"We recognize that addressing Hawaii's energy challenges requires Hawaii-specific energy solutions, and that is why we look forward to meeting with and listening to residents across Hawaii."
The merger application between the much larger NextEra and HECO currently is before the Public Utilities Commission, which will determine the fate of the merger. NextEra Energy has consolidated revenues of about $17 billion and about 13,800 employees in 27 states and Canada.
Senior leaders and other officers from NextEra and HECO will be attending the meetings, which run from 5 to 8 p.m.
The Maui County meetings follow:
* April 7 – Maui Electric Auditorium, Kahului, and the Kihei Community Center.
* April 8 – Lahaina Civic Center and the Lana'i Community Center.
* April 9 – Kaunakakai Elementary School Cafeteria.
Online: