On Tuesday (10/21/14) at the Kihei Charter Middle School (41 E Lipoa) at 6:30 PM, KCA welcomes six Maui County Candidates for three offices in a forum for those who are registered, and do vote. For County Council, we have Kahului's incumbent Don Guzman & returning "termed out" former Councilmen Joe Pontinella; South Maui incumbent Don Couch and first time candidate John Fitzpatrick: and the Mayor's contest with Alan Arakawa going for a (split) third term, with Ocean Safety Officer Tamara Paltin.
Doors open at 6:00 PM Come early to meet & greet the candidates, and get a bite to eat. KCA's Maui Food Bank drive continues. Remember those keiki and kupuna going to bed hungry tonight on Maui.
The Association is an all volunteer non profit with no government funding. Consider becoming a supporting member. More information, call ( 508) 499-9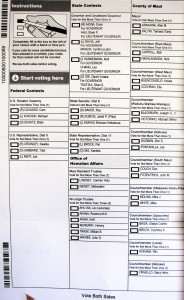 996.