9/25/19 #kihei
Guys who live in North Kihei are very familiar with this street as the first signalized intersection as you enter Kihei from the north on the Pi'lani highway. It has long been the major entrance to the Hale Pi'ilani subdivision, more recently the location of the A & B Kamalani housing project on the corner of that highway and most recently the location of the Kaiwahine Village (KV) truly affordable rental housing project hopefully having initial move in by this Christmas.
As a 100% truly affordable project you might expect there would be no significant added conditions for infrastructure for KV, but that is not so. They are required to pave the entire length of the street as well as construct a huge water tank mauka of the apartments to increase water pressure for the entire neighborhood.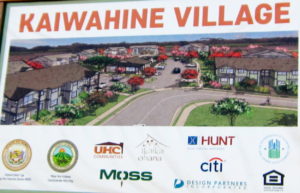 However the County government is currently replacing the crumbling drainage system under the street via contract to Rojac Construction, so that will be complete BEFORE any repaving commences. Good move!
You can find some history of the project at:
https://gokihei.org/?s=Kaiwahine+Village+Project
(Stay tuned for the next truly affordable housing project in Kihei from this same firm, Ikaika Ohana)