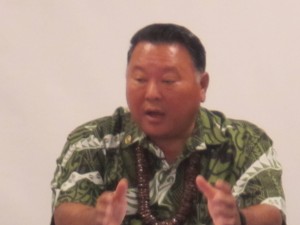 UPDATE  11/20/15 Decision on next step  was made on this Friday morning. Matter referred to Budget Committee.
11/15/15 At this Friday's County Council meeting (11/20/15), 9:00 AM in Council Chambers. According to the Agenda, http://www.mauicounty.gov/ArchiveCenter/ViewFile/Item/20969 there is Communication 15-283, relating to a surcharge on the State's GET, which comes from the mayor.
This possibly was mentioned at the County DOT public meeting on 11/9/15 in Kihei, as we reported on 11/10/15, https://gokihei.org/alternative-transportation/dot-report-to-south-maui-community-last-evening-11915Â  , but beyond that we have noted no mention of this proposal anywhere
Through the helpful assistance of the County Clerk's Office, we have obtained the communication, and very briefly , this would take advantage on the State Ledge move which allowed Oahu to add .5% surcharge for the rail project. This same prerogative is offered to all the counties, with a cut off to take "advantage" of this opportunity by ordinance if passed by 6/30/16.
Consider if you may want to advise your elected representatives your opinion before Friday in writing on in person Friday morning at 9:00 AMÂ