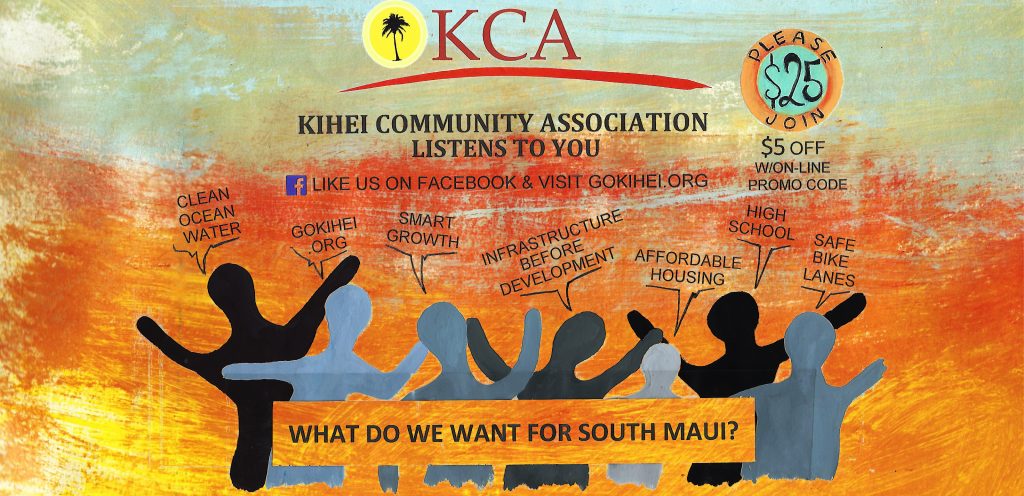 Maui Food Bank Donations Still Encouraged
#kihei #elections
UPDATE: 7/16/20 BIG Mahalo to Akaku. Maui Community Media, who has offered to live telecast on their cable CH 54!!
Updated 7/7/20
Due to health guidelines, the July General Membership meeting for the Kihei Community Association will be held online. We will have an opportunity to hear from candidates from local political races.
See the candidates live on Facebook. The Kihei Community Association meetings are for everyone whose concerns include Kihei and the surrounding areas. Please consider joining the KCA to support their ongoing advocacy.
You can view the proceedings on Facebook with any computer with internet access, including a smartphone. A Facebook account is not required to access the meeting.
Our agenda is as follows:
6:30 PM Lana'i Council Candidates

7:15 PM South Maui State Representative Candidates
You may think Lana'i is not important but please remember: Although the Lana'i council member is from Lana'i, they still vote on issues which concern South Maui, and its areas of Kihei, Wailea, Maalaea and Makena.
The top two Council Candidates for each position move onward toward the November ballot for a final selection. There is only one council member selected for each area, e.g. south Maui, west Maui, etc.
In the primaries, everyone can vote for the party representative, but must choose only one party. On July 21st we will hear from Tina Wildberger and Don Couch, who are both seeking the District 11 State Representative seat for the Democratic party. Whoever wins the primaries has to face yet another contest in November against other parties, e.g. against the Republican party, Aloha Aina etc. before being finally selected as that position for the 2 year term..
KCA does not exist without members. It cannot function without the financial support of its community members. If you believe that the local news, the local politics and associated activities which impact our Kihei community and its surrounding areas are important, then please join the KCA and enable us to keeping doing this good work by becoming a supporting member!
Traditionally, at our in-person meetings, KCA members are encourage to provide shelf-stable donations for the Maui Food Bank. KCA still encourages meeting attendees to donate toward the Maui Food Bank this month, on behalf of the Kihei Community Association. You may choose to donate online financially, donate food products online, or any type of donation, in-person, at any Maui Food Bank donation stop or even at the Maui Food Bank organization itself.
Maui Food Bank
760 Kolu Street
Wailuku, HI 96793
Phone: (808) 243-9500
Email: info@mauifoodbank.org
Hours: Monday–Friday 7am–3pm
Closed Weekends & Holidays