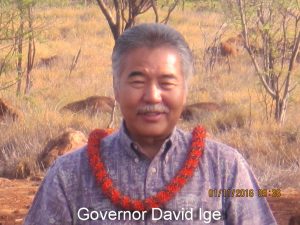 10/3/16 On Wednesday, representatives of a number of Hi state departments will gather with Governor David Ige in the Piana building at UHMC beginning at 5:00 PM for a public forum. This is an unusual situation for Maui residents to be able to approach leaders of HDOT, DLNR, AG and DOH all together in Kahului.
In Hawaii, many governmental functions are not held at a local (we have no town governments) or even County level, and while our state legislators are usually accessible as they live here, not so with State administrators.
Concerns with our near shore water quality? DoH, Clean Water Branch; State Highways, e.g. Pi'ilani and Mokulele Highways, N. Kihei Road? DOT.
We have no contact information for any further information, but expect you can call the governor's office.