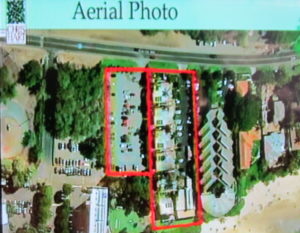 9/12/17 4:30 At the lot**
Is that question familiar? Was it asked right here last March? See below!
9/5/17 #kihei
Today we have the answer: it will be Tuesday September 12 at 4:30 PM. So what we had expected last May or June to be an official County Council LUC meeting finally materializes in September as an unofficial public meeting, but the community will be glad to see it and hopefully will generate a large turnout. We appreciate Chris Hart and Partners arranging the two-part back to back meeting and Jordan Hart for the alert. Here is the invitation, with a map on page 2:
2017_0828_MOSR_Public Meeting Invitation Letter & Map

Here is what we posted on 3/5/17 in https://gokihei.org/environment/when-is-the-public-meeting-along-south-kihei-road-addressing-controversial-parking-lot-project:
Council committee response to call for community input
3/5/17 Over two weeks ago after a contentious Council LUC meeting concluded with the item deferred, the LUC announced its scheduling of a tentative public "site visit" meeting. As it is an official Council committee meeting, public testimony must be accepted at the site, and it is expected that many more concerned community members will testify in person this time because a trip to Wailuku is not required, and many more should be aware days before it occurs this time.
While we expect media, such as Maui News may well have a writer present, it is not expected it will be shown on Akaku, Maui Community Media.
For anyone not aware, the unpaved parking lot in the vicinity of the Mana Kai resort, south of the boat ramp is the area of contention. The owners of Sarento's Restaurant & the adjoining motel want to pave the lot as an approved off-site parking lot for their businesses, shared with the community for beach parking. The owner's representative seems to indicate that this split was established long ago with a 51-49% division, and the proposed change is simply to pave and line the lot for order & more efficient usage, accommodating more vehicles.
The community concern is that the end result will be much less public parking for users of Keawakapu Beach.
The meeting is expected to be scheduled possibly in the latter part of May or June. As always, stay tuned.