UPDATE 5/9/20
Just before noon we find the south most message board sign it new improved location. just north of Halekuai on SKR.
UPDATE
5/5/20 This afternoon we have positive word the sometime tomorrow (5/6/20) the "message board" sign on SKR that is currently located near Yee's orchid directing drivers to detour at Kulanihakoi to the highway where there is no traffic control , will be relocated to just South of Lipoa, so drivers will be directed to detour at Lipoa or Pi'ikea, both signalized at the highway. This prudent action should greatly reduce the traffic jams the past two days on Kulanihakoi.
UPDATE 5/1/20 This afternoon the County DOT (Maui bus) announced details of the bus route modifications we outlined back on 4/24/20
Posted on: May 1, 2020
Kihei Islander bus route changes announced
The County of Maui Department of Transportation announced that the Kihei Islander bus route will be changed beginning Monday, May 4, 2020, because an extended closure of a portion of South Kihei Road.
The road closure stems from infrastructure work for a private commercial property. The work will temporarily close five bus stops on South Kihei Road for approximately three months.
The affected bus stops on South Kihei Road are:
Kulanihakoi Street (northbound)
Waipuilani Road (northbound)
Piikea Avenue (northbound)
Kaonoulu Street (both sides, no shuttle service available)
A complimentary private shuttle service will be provided by the commercial property, every 15 minutes, at three of the bus stops taken out of service – at Kulanihakoi Street, Waipuilani Road and Piikea Avenue. The shuttle will provide daily service from 6:30 a.m. to 9:15 p.m. weekends, starting from Piilani Village Shopping Center. A map of the shuttle route can be found at mauicounty.gov/bus.
Bus riders are reminded to wear face coverings or masks while on the bus and the use the service for essential travel only.
Maui Bus general fares are $2 per boarding or $4 for a daily pass. Monthly passes are also available. For more information, contact the Maui County Department of Transportation at 270-7511. Its email is public.transit@mauicounty.gov.
UPDATE 4/30/20 These "message board" signs went up yesterday, but the one north of Yee's orchid on SKR should be placed at Pi'ikea to direct vehicles to use that to reach Pi'ilani Hwy. Directing them to residental Kaulanihakoi where there is NO traffic signal at the hwy is a poor and dangerous choice. We have asked all entities to quickly rectify this matter. Stay tuned.

Questions, Difficulties, and Opportunities Arise with New Hilton Development
4/24/20 #kihei
When was the last time your ohana was pleased to learn of an upcoming road closure?
While the inconvenience may ultimately yield an improved situation, Kihei Community Association is advocating for proper planning and timing. The possibility of poor planning and timing making detours and multiple delays will be very taxing for the South Kihei community.
When we learned of a proposed closure of a segment South Kihei Road (SKR) in North Kihei from Maui County Administration in sporadic announcements, but were given few details,we called for input from the developer.
Tyler Middleton, Director, Development & Project Management, with Hilton Grand Vacations (HGV) responded to our request with a conference call arranged by Mike Munekiyo of Munekiyo Hiraga, an urban planning and project management consulting firm based in Hawaii. Community meetings are not possible today, but this may be the next best thing.
Middleton explained that the planned road closure timing was accelerated due to our current circumstances, where the volume of traffic has dramatically dropped. Moving forward with the road closure as soon as possible would create the least inconvenience for the community. Kihei Community Association agrees and feels this is a very positive step. So the community may not be "pleased" with the closure, but if it has to be, this is the best time to do so.
The plan that has part of South Kihei Road closed to traffic begins Monday, May 4,with a goal to reopen the segment in ten weeks. Our Association is hopeful but we all know guava happens.
So before the closure of the road section between Ohukai and Kulanihakoi occurs, road message boards are set to be placed at intersections of North Kihei Road (NKR) & SKR and Pi'ikea & SKR on April 29. The boards will advise motorists of the closures ahead and direct them to exit SKR at those intersections, unless their destination is closer to the site.
For example, if one wants to make a purchase at the farm market at Uwapo, participate at the Kihei Canoe Club, or grab take-out at Isana continue on SKR from the north. But if you going to Azeka or south, stay on NKR to the Pi'ilani Hwy
Conversely, traveling from the Wailea on SKR, unless you are going to the Hawaiian Humpback Whale National Marine Sanctuary, turn right on Pi'ikea to the highway to avoid narrow residential streets and left turns onto the Highway with no signal lights.
Additionally Middleton and Munekiyo advises there will be releases in newspaper and radio announcements the last week of April. Kihei Community Association has given the community early notice, so spread the word now.
Of course, trying to accelerate a major project sometimes hits snags which stem from last minute questions. An example is: what about the remaining Maui Bus route for the Kihei Islander Bus No. 10? There is no way that bus is making a left turn onto the highway with no traffic light. In fact, Kulanihakoi was supposed to have a temporary light at the State highway a year ago, yet somehow State Department of Transportation never completed it.
If a bus can't run from Pi'ikea north on South Kihei Road what is a bus rider to do? Why, take the free shuttle running on South Kihei Road, of course. The free shuttle is arranged byGoodfellow Bros. Inc for Hilton Grand Vacations.
Hilton Grand Vacations is arranging to have a free shuttle to run daily from 5:00 AM to 10:00 PM from Pi'ikea at the Pi'ilani Shopping Center down to South Kihei Road and then north to Kulanihakoi.
So what will happen while the road is closed and what can we expect if it reopens, as planned, in the middle of July?
A much wider stretch of roadway, with a median, including bike lanes; "meandering" walkways safely removed from the roadway and two new crosswalks across SKR from the project to the beach, each with pedestrian activated flashing lights.
Beyond the roadway what else can we expect? HGV has adjusted the potential expected first "heads on beds" for this September for the first of three phases.
Now what about makai, those areas closest to the ocean?
One of our greatest community concerns is: why have any structures west of the roadway?
Over a decade ago, before sea level rise evolved into an ongoing concern, the county approved some building projects on the makai side, and unfortunately, the approval remains.
So, what is the plan for this property on the makai side, managed by Hilton Grand Vacations? There will be no local housing there but there will be a "beach club", the purpose of which is to serve the time share residents. It will still be open to the public, elevated on posts to allow for egress from the kai. Basically this will be a "bar & grill" overlooking the shoreline. Adjacent to the club will be a swimming pool with entrance restricted to residents of the time share project. We continue to advocate nothing at all on this side of the road, but we understand it is legal.
In the meantime, let's do everything we can to prepare for the closure over the next week. Let's do our best to avoid the area if at all possible, and not vent our displeasure and inconvenience on neighbors who live along these narrow residential streets and endanger the keiki who are playing there, due to the closure of schools.
Spread the word of the set up and be patient. When this is concluded, one of the worst and least improved segments of South Kihei Road will be safer for everyone, and it is duly appreciated by our Association this is happening at the most opportune of times.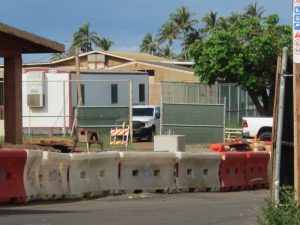 .