FOLLOW-UP 8/4/15
Almost 100 guys spanning the ages from kekei to kupuna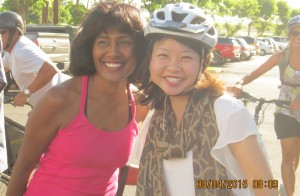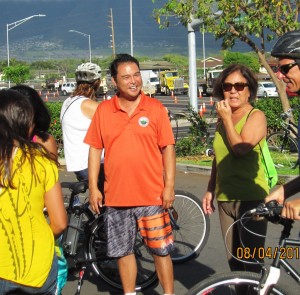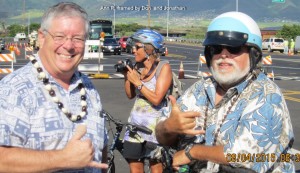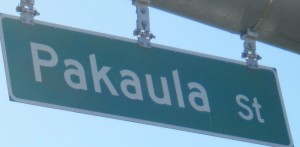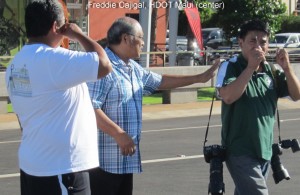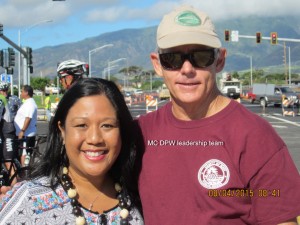 on a huge array of bicycles assembled for the ride this morning, led by the leadership of Maui Bicycle League. State and County officials participated, with almost everyone on a bike, and numerous citizens from a various parts on our island completed the group. KCA participated in support of safe connected bike paths all over Maui. Seemingly everyone enjoyed the assembling and short ride on a virgin 4 lane roadway, but the recurring theme for the future was a segregated safe bike path along this new road. "Bike lanes," basically a white line segregating motor vehicles from bicyclists is considered better than nothing but the growing community voice says separate bike paths is way to go.
T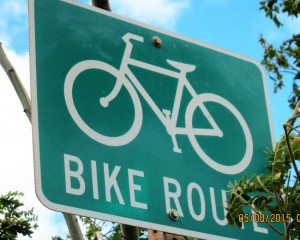 his event is not a KCA one, nor is it occuring in our area Tuesday morning
So the question is posed why are we posting it here? Our reasoning is we have advocated for a walkable/bikable community for decades, and just looking at the latter, if we achieve some success, is it not reasonable that it would be even better if cyclists could safely connect to other Maui areas. That's connectivity.
The newly formed Maui Bicycle League, working with State and County governments has arranged for any bicyclist to join with their members, as well as many government officials, to take the first ride on the first segment of the airport access road between Puunene Av and Hana Highway (and back) on bicycles, one hour before the road is open to motor vehicles at 8:00 AM this Tuesday 8/4/15.
Here is their press release on the event:
Aloha bicycle enthusiasts,
A Once in a Lifetime Bike Ride: Â Experience fresh pavement untouched by car wheels!
Just one of the reasons to join Maui Bicycling League on our free public bike ride on the new Airport Access Road on Tuesday, August 4 – Ride with the elected officials just prior to the road's official opening to cars! 
You are invited to a free, once-in-a-lifetime unique cycling opportunity — to ride the new Maui Airport Access Road Phase 1, just prior to the road's official public opening to cars. This opportunity has been given to us by the Hawaii Department of Transportation, and the Maui County Department Public Works.
The ride will take place on Tuesday, August 4, from 8 am to 9 am, beginning and ending at the new intersection of the Airport Access Road and Dairy Road, near Home Depot and Walmart.
Bring kids, friends, neighbors and family – and bikes if you have them. Don't forget your helmets – they are required. And kids under 16 must be accompanied by a parent.  Park at Walmart, and walk your bike along the sidewalk over to the new Airport Access Road.
Why are we doing this? First, it's fun and unique – ride this new roadway…without cars!
Second, there is a serious need for a safe bike route to link the North Shore Greenway and the Mokulele Bike Path.   By connecting these two protected Shared Use paths via a new Shared Use path set alongside the new Airport Access Road we can create a single contiguous path stretching almost 14 miles!  Taking riders safely from Kihei to Kahului, and then on to Paia – all along a protected route away from cars – this new pathway would be the longest bike path in the State of Hawaii.
Dairy Road isn't a good option for traveling between the North Shore Greenway and Mokulele Bike Path  — on average it is almost 15 times more dangerous for a cyclist to ride down Dairy Road than any other mile of roadway in Central Maui. And Hookele Street was built without a bike shoulder.  This highlights the urgent need to add this short connector link – establishing a safe route for all users to move via bike between Maui Communities.
While we are glad that there is a shoulder on the new Airport Access Road, the next step would be to establish a free-standing shared-use path built into the Airport Access Road's wide easement where bicycles, walkers and runners could safely travel. We would like to see that path added to the Central Maui Pedestrian and Bicycle Master Plan, and Bike Plan Hawaii, so that this essential link can become a reality for the Maui Community.
Please join us for this special ride, learn about our vision and to meet other bicyclists on Maui!