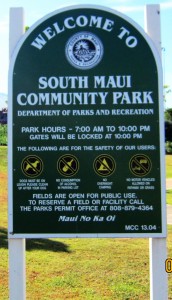 Once again when it is finally Kihei's turn to join all the other sizable communities and have a gym for our area residents constructed in our Community Park, a point is raised that State government should be doing this function. You see, the current version of the FY 2016 budget being considered in the Budget and Finance Committee of the County Council has completely removed the funding for this proposed and long awaited facility. The Community was advised last October at the County's Community meeting in Kihei, that this $4. M Â was necessary to build the structure, to supplement the monies approved in last year's budget, but unless the majority of Council members vote to restore it, no money in FY 2016.
Each year South  Maui's portion of the CIP budget continues to lag behind other comparable areas as we were again for FY 2016, less than Central (66% less) West (50% less) and Upcountry (20% less) in mayors original budget. And now removing these monies would reduce our allocation by another 25 %.
If this is a concern of yours, NOW is the time to communicate with ALL NINE Council members to express your view.
Don Couch   270-7108  don.couch@mauicounty.us
Mike White  270-5507 mike.white@mauicounty.us
Elle Cochran  270-5504 elle.cochran@mauicounty.us
Riki Hokama  270-7768 riki.hokama@mauicounty.us
Gladys Baisa  270-7939  gladys.baisa@mauicounty.us
Michael Victorino  270-7760  michael.victorino@mauicounty.us
Robert Carroll   270-7246  robert.carroll@mauicounty.us
Stacy Crivello 270-7678Â Â Â Â Â  Â stacy.crivello@mauicounty.us
Don Guzman  270-5501    don.guzman@mauicounty.us
Group email address:  County.council@mauicounty.us 
Call, write, submit testimony orally or in writing bf.committee@mauicounty.us to this committee.
If you do nothing, that may well be what you will receive—nothing!