Bomb Removal Options Include Detonation in Place
Molokini is possibly in danger of having some of its remaining WWII-era ordnance removed via detonation, according to a blog post by Maui diver guide, Paula Fiene. 
Fiene had learned of this information through an unnamed source within the government, whose concerns included that the state government had no plans in place to explore other options for the environmentally fragile area, she stated in a response to Kihei Community Association's emailed query.
This reported action by the state would be in contrast to their November 2019 press release, which stated that "Outreach (regarding the bomb remediation) to commercial tour operators, divers, and boaters is already underway… This includes public presentations (emphasis added) and distribution of UXO pamphlets to divers and boaters (attached). The U.S. Navy's Explosive Ordnance Disposal Team has been requested to conduct the remediation at Molokini… " (Department of Land and Natural Resources).
Fiene had stated this same information in a recent Civil Beat article. Maui Now reported that the Department of Land and Natural Resources denies that these are final plans but are part of an ongoing discussion. 
Fiene's blog post includes highly detailed photographic evidence of the history of Molokini and its past, showing the devastation wrought by bombs on its coastal and marine life in 1984. Her blog also offers alternative solutions for bomb removal enacted by other countries.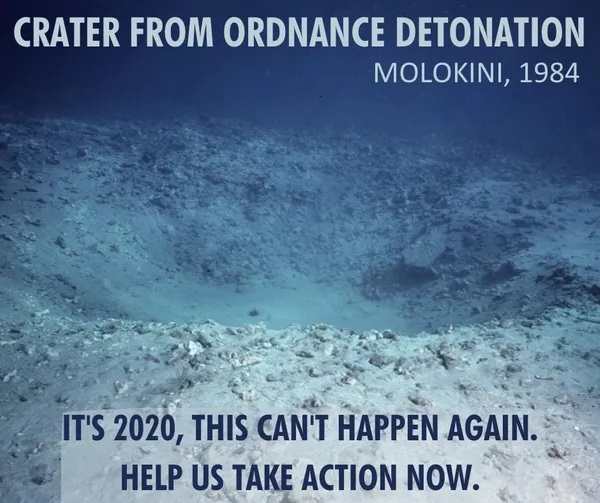 Fiene shared a link with KCA for an online petition on a website called SaveMolokiniNow.org. For more details on this movement, email info@savemolokininow.org. 
South Maui state representative Tina Wildberger was alerted to this situation via Fiene's blog post and had immediately issued a press release condemning the possibility, and contacted local media to discuss her concerns. 
Wildberger has long championed environmental causes and is currently on the House Committee for Energy and Environmental Protection Committee as Vice Chair.
Wildberger will appear on Hawaii news channel KITV Sunday, June 28th, with her interview scheduled for broadcast at 5 PM and 10 PM.