Community meeting Tuesday evening, 1/19/2021
Our next Kihei Community Association (KCA) virtual general membership meeting commences at 6:30 pm. The meeting will concentrate on the State Land Use Commission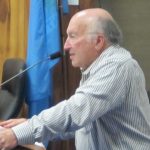 (LUC), which is composed of nine appointed statewide volunteers who make legally binding decisions concerning, as the name indicates, what type of development can occur on open lands.
What does this mean to our community? A few examples are the hot button issues of safe passage to the new high school in Kihei for pedestrians; over, under or across Pi'ilani Hwy. Another issue concerns the future development on the huge parcel mauka of that same highway north of the school, often called the mega mall lands.
Our meeting features three guests, special guest Jonathan Likeke Scheuer, chair of Hawaii State Land Use Commission, who joins Maui's own Dick Mayer and Mark Hyde to discuss the importance of the Land Use Commission and its role in pursuing safe routes to the new Kihei high school and other matters.
The virtual meeting can be viewed on Facebook Live, and you do NOT have to have a Facebook account to view it. SEE https://www.facebook.com/kihei.community.association/live
We will also announce newly elected officers of the Board Directors for 2021, as we begin on 61st year of incorporation.
SEE www.gokihei.org for details
KCA continues to strongly advocate for generous non perishable nutritious food donations for the Maui Food Bank . Over 10% of Maui's keiki and kupuna are estimated to go to bed hungry every day.
KCA is an all volunteer non profit community membership organization, and currently you can sign up for an individual or family membership for $15.00 per year, a 40% discount. No, you do not have be a member to attend meetings or to view our website. Also for no fee you may receive our 24 annual newsletters, but without member support, all of this would dissolve.
More info, call (508) 499-9996 or see www.gokihei.org
MAHALO!