Researchers Neil Rhoads and Mailea Miller-Pierce are almost done with their analysis of DoH water samples around Maui's coastline going back decades. This work was financed by contributions from many individuals and organizations, including KCA, and by the Office of Economic Development.
Some of the conclusions of the study were presented at the latest KCA membership meeting.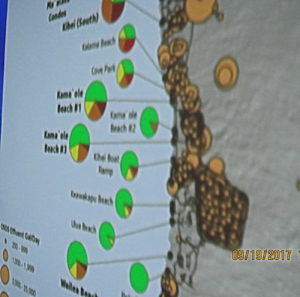 You can read more about this issue here.
Among the questions investigated in the study:
What is the microbial content of Maui ocean waters?

Where is it worst?

Is it getting better or worse?

Is there a strong correlation between microbial content and potential sources of contamination?
We need your help to cover the costs of publishing the paper and of additional computation based on some surprising findings. Please donate what you can!