2/14/20 Today we have the answer. No, there is no secret development in the works, it is a County Public Works project to replace the existing system which is failing under the street. Construction schedule is not yet set, but it seems to be soon with all the pipes there, so get ready to avoid driving on Keonekai Road.
2/6/20 #kihei We receive inquiries from the community on a wide variety of concerns. Our all-volunteer team endeavors to secure verifiable data to address these matters and answer questions.
One concern we focused on was the identification of the source or purpose of these large pipe segments in south Kihei. This is a huge stockpile stacked on the makai side of the segment of the North-South Connector Road, also known as Liloa Drive, just north of the corner of Keonekai Road.
While there was no specified time limit, after over a week, we have had no answers regarding this stockpile.
Therefore, we are turning the matter to you to see what input our members and the general community may offer.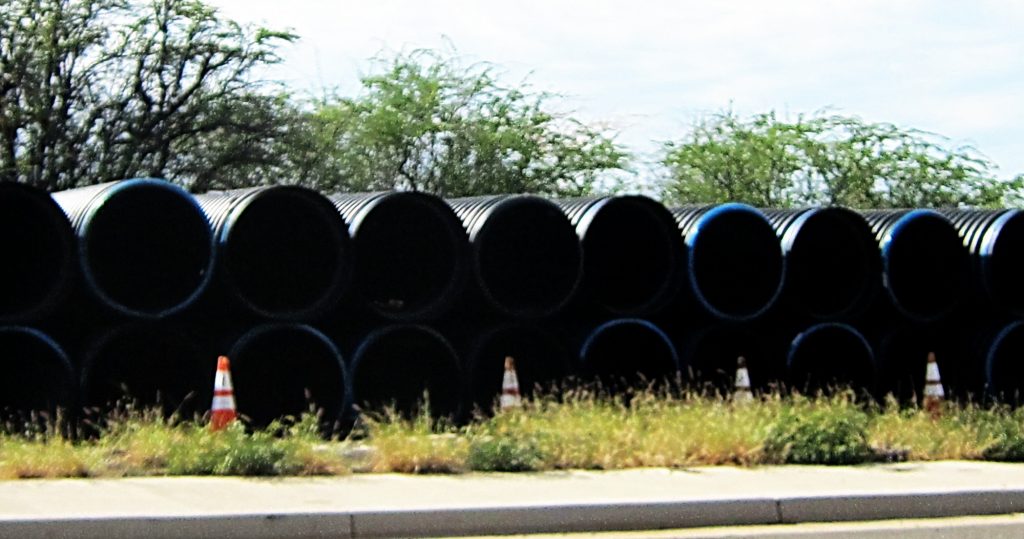 Then, going toward the kai, we see a few more just before the corner of S Kihei Rd placed along the north edge of Keonekai Rd.
Sooo… what are these for?