UPDATE 7/10/17 We have no confirmed report, but coconut wireless is buzzing that some sort of compromise settlement may have been reached. Our suggestion is that anyone concerned about this project head for the CAMERON CENTER for tomorrow's 9 AM Planning Commission meeting.We intend to be there.
UPDATE 7/6/17 COURT HEARING RESCHEDULED TO JULY 7 2017 HAS BEEN CANCELLED!!!
What court decided could have affected next Tuesday's County Planning Commission meeting activity. When we get more info we will advise here
UPDATE 5/18/17– No we never saw report in Maui News, & not sure why, but so far seems we got report correct. The County Planning Commission agenda http://www.co.maui.hi.us/ArchiveCenter/ViewFile/Item/22841 for 5/23/17 does say no testimony on Makena due to court action and announces meeting on topic will be July 11, which may be so, but let's see what happens on Court on June 9 first.

UPDATE 5/12/17 Over the years we have had attorneys serving as directors and officers on our board, but none currently; our door is open But with that disclaimer we will offer a lay report on this count hearing this morning. (Look for Maui News professional report) So if we got this right, the restraining order requested by the three entities is lifted today, but the developer nor the County government cannot take any action until another court hearing set for June 9, 2017 at 8:30 AM
Apparently a County Administration Planning Commission meeting tentatively set for May 23 to address an SMA permit request will only be used to announce no action can be taken until the 6/9 court action. The soonest such a Planning Commission could take place on this request would then be June 27.
We we can report with more assurance is in the courtroom we observed two wahine planning commissioners, two county attorneys (one observing, one participating, the Planning Dept Director and a staff planner, two participants for the development and nearly twenty in support of the legal challenge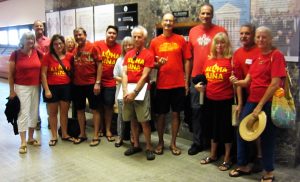 #kihei 5/10/17 Makena Resort?s Environmental Assessment (EA) legal challenge on their Makena Landing plans will be heard in Second (Maui) Circuit Court on Friday, May 12 at 8:30 am in the courtroom of Judge Cardoza. Three environmental groups have united to question the validity of a County Planning Commission split decision accepting the offered EA. KCA requested a full Environmental Impact study (EIS) because you can?t say there is "no significant impact" if you haven?t studied what the impacts are.
Maui Tomorrow, Ho'oponopono O Makena and Sierra Club appealed earlier to the judge for a 10 day stay on the developers appeal for an SMA (Special Management Area) hearing, which the Planning Department had scheduled for May 23. Judge Cardoza granted that stay. The hearing is this Friday at 8:30 AM on the 4th floor of the State Judiciary Building, Courtroom number 3.