UPDATE 8/11/16 Today it seems the work is done, and ironically,. seems the last remnant of the black dust fence was removed. Years back KCA and several individual residents asked for this but were denied. Than tradewinds refused to take no for an answer, and shredded most of it yet again, & it was not replaced. Now this. Go figure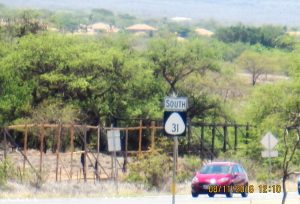 What is up with the Pi'ilani Promenade, aka Mega Malls Project 
As you might imagine, we received a lot of input in a variety of ways. Our website posts have a comment section on each one if guys choose to make a public comment or pose a question. But we seem to get more communication directly via email or phone. Depending on the matter addressed, we respond just to the inquiry personally or publicly via the website, if it seems to be something in which a reasonable segment of the community expresses interest. As this has been one of the most popular topics on past several years, when we had new inquiries, we created a new post, as we had a few asking what's going at at this job site.
Answer: we had no idea why a few vehicles were located there at the southern end, behind what is left of the dust fence, and while we were told there were several workers there this morning (8/8/16), we only saw one this afternoon.
What we can advise is we had a written request from Mr Charles Jencks about a month ago, concerning a proposed meeting with KCA as the "filing of the final EIS for the Promenade Project <is>getting close…. might assist in the continuing effort to end homelessness in South Maui."
Of course we were concerned, and responded asking for more specifics, and are awaiting further word. But that is all we can report to you at this time. As always, stay tuned.