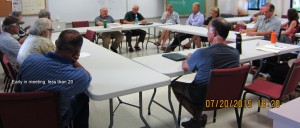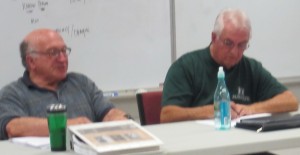 In what may be the greatest attended meeting since inception over the three years ago, about 30 attendees filled the Kaunoa Senior Center meeting room to hear about a "Water Use and Development Plan" (WUDP) with invited guests State Water Commissioner Jonathan Starr (also a Kaupo Community Association Board Member) and Council Member, and Chair of the Water Committee Gladys Baisa. County Water Supply Director Dave Taylor attended of his own volition, and since WUDP is generated from his department, proved to be a good resource. Faithful Alliance every month participant Lucienne de Naie tonight was a heavy contributor
On Monday evening (7/20/15),KCA had two directors present, and our prime concern is the source of water to satisfy the quickly growing list of proposed projects in South Maui, as well as the potential expansion of use of R-1 recycled water originating from the County water treatment. Since this plan has no effect on either of these concerns, our participation was limited, but it was an educational experience, offering some interesting observations:
Less than 80 % of water supplied county wide is from the County Water Supply Department:
State water Commission has no input no bearing on water quality, as that aspect is the kuleana of HDOH:
H C & S has 1 BILLION gallon storage capacity on Maui, but most of their reservoirs are unlined and thus leak.