UPDATE 5/20/17 Sign are up at both ends on both side of Pi'ikea. Step by step. Stay tuned!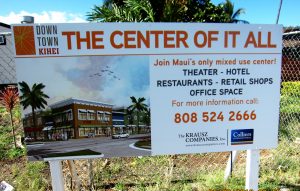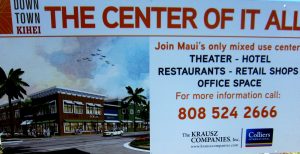 UPDATE 5/14/16 We continue to have inquiries about status , and Krausz team is always cooperative to keep us posted . What they are doing currently is working on the architectural design and engineering of the project. Also, pre-leasing is in process.. They further advise that they have had several meetings about the project scheduled at this month's ICSC (International Council of Shopping Centers) convention in Las Vegas.
Working with Hawaiian government entities, they have completed and submitted drawings to State DOT and County DPW for the required off-site improvements on the Pi'ilani Highway.
So while we may go by and see no recent changes, there is a lot of work being performed on the project right now. But it just isn't visible . We have to remember that they want to get this built and functioning as quickly as possible, after about a decade of preparation
2/6/16 Water Laterals in at end of 2015, and now some very specific land clearing has begun.
As Cattle egrets fluctuated between perching and swarming while kiawes and other growth were uprooted on the northern most portion first and then the South side of the proposed Downtown Kihei Project, and the water latreals seemingly complected, looks like they are moving forward in earnest.
After a decade of planning, see: https://gokihei.org/?s=Krausz%2C+Downtown+Kihei&submit=Search the now approved project is showing more obvious signs of preparation for actual construction. Continuing with their outstanding communication ,we were advised that current work is not general land clearing, but removing some specific species as required by permit requirements. When the next segment will commence seems unclear at this time. Back "in the day" about two years ago, a projected "start" was summer of 2015, so they seem to be right on target. So stay tuned for future updates.