UPDATE 5/20/14 Â  So 6 months later we examine this same area to find the MBC building quickly rising, seemingly leading us to believe it will indeed open this year. Meanwhile, no change at site of Rehab Center, but we see the newest signage advising the future home of the Kihei Charter High School.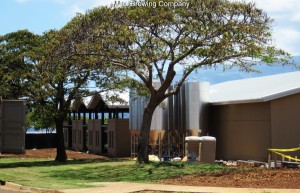 This morning (11/13/13) we explored what was occuring at the Tech Park. Â As part of the continuous development of the Research and Technology Park (R & T ) extending north and south from Lipoa Parkway, Maui Brewing Company (MBC) has contracted P B Sullivan Construction to coordinate the development on the 5 acre plot just north of Lipoa Parkway. The brewery is expected to be completed in 2014, and then a brew pub will be set on adjacent land. If so, this will balance this business with similar facilities in both West and now South Maui.
While in the area, we observed this federal government vehicle descending Haleakala through the security gate.
In addition, we noted the sign advising another entity to be built in this ever expanding development, Regency Maui Nursing & Rehabilitation Center, which is just Mauka of the MBC site.