Public Hearing at 9:30 AM Wednesday, April 3rd at the MACC. Testify in person or via email soon( see clear instructions at end of this post ).
3/31/19 #kihei
How often do you hear that phrase "Safe Routes To Schools"? Having safe routes on which to travel to a school seems like a pretty basic expectation in a community. A guarded, sheltered, or shielded space that is protected from risk when traveling between home and a place of education is unquestionable. The phrase may usually refer to children, but also includes teachers and school staff.
Which is safer: walking or cycling underneath (or over) a four-lane undivided highway, with a four-way intersection? Or walking or cycling across that same highway in a marked crosswalk? Is there any question which is safer?
Also, what is the purpose of setting conditions for an action? Yes, you can proceed to do what you ask, BUT in order to proceed, you MUST do this first. If you do not abide by a set condition, you may not proceed with the action.
But if an entity simply says, "No, I won't meet that condition. I decided I do not like that restriction. I will proceed with the action anyway." Doesn't that now destroy the entire process of setting a condition?
We may find out the answers to these questions when the Department of Education meets with the State Land Use Commission this Wednesday, April 3rd at 9:30 AM at the Maui Arts CulturalCenter. The hearing's agenda is focused on the LUC item DR-19-65, which is the County of Maui's Declaratory Order that requires the Department of Education proposed Kihei High School to include an under or an overpass. This is the follow-up meeting to the March evening meeting on the same topic.
Over five years ago the DOE petitioned the LUC to have the land use designation for a parcel of public lands changed from agricultural to urban in order to build a high school in Kihei. The LUC said to proceed, but you have to have a safe passage over or under the highway BEFORE you open the school. The DOE even hired a firm to do a safety study in the area which gave us the "Safe Routes To Kihei High School Pedestrian Route Study." This study recommended going under the highway as it was more cost effective than going over. A few years after the study, the school's construction process broke ground, literally, with the drilling of a well. In 2018, actual work began, preparing the land for the construction of the future school buildings. The construction work continues today.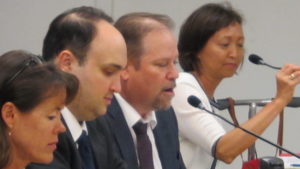 BUT the DOE took NO action to build the required underpass or overpass after all these years. It is as if they expected it was fine to ignore the requirement but IT IS NOT! They seemingly blew off their own contracted study, which supported the underpass or overpass and then hired another company to do another study which said what they wanted to hear, which is that the underpass or overpass is not necessary.
Children's safety trumps state bureaucracy in South Maui. We support the LUC condition and hope you do as well. We realize attending a public meeting at 9:30 on a Wednesday morning, especially right after spring break, is tough.
But if you possibly can make it, tell the volunteer commissioners of the LUC that child safety is most important to you at the beginning of this hearing.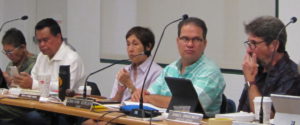 You may also provide written testimony. The following information is copied from the state Land Use Commission's website.
How to Provide Public Testimony at an LUC Hearing
"The LUC welcomes and invites written testimony on agenda items via several methods:
via e-mail: dbedt.luc.web@hawaii.gov
via direct mail to State Land Use Commission, P.O. Box 2359, Honolulu, Hawai`i 96804
by fax at (808) 587-3827
or, in conjunction with oral testimony at an LUC hearing.
Regardless of format, the Commission requests that written testimony on an LUC meeting agenda item be submitted at least 48 hours (emphasis added) prior to its scheduled meeting to ensure that the testimony is posted to the LUC website and made available to the Commissioners before the meeting. *Note: Submittals made after this deadline may not be processed and/or circulated prior to the meeting but will be made available to the Commissioners as soon as they are processed."