Newer Pix on 2/12/15
UPDATE 2/11/15Â Â  This temporary crossing began improvements this morning, which necessitated closing one lane, with the resulting vehicle back ups. As most of the community was unaware this was taking place, there was some grumbling.
UPDATE Â 1/28/15 Â  But we were going in the right direction when we forecast opens a day early. Now we see a blessing of the temporary crossing is set for 3:00 Â PM WEDNESDAY , with open to traffic immediately after. Great job GFB.!!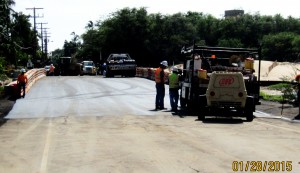 UPDATE 1/27/15   Kudos to both Public Works (DPW) and Goodfellow Brothers (GFB) for an outstanding job alerting the community at least a week before the project began at 3;00 AM today with the road closure, and the expanse and variety of signage extending much beyond the area of road closure. Some of the GFB team assembled at 1:00 AM to set up all the necessary equipment to safely close SKR and prepare for the project, and indications they will work overnight to move as quickly as possible with installation of this temporary structure. Seeing how far they have already progressed by midday today, an unsophisticated layman concludes they are ahead of schedule, and we would not be surprised to see SKR open Friday morning.
Midday the Pi'ilani intersections of Kaonoulu and Kulanihakoi (this one had MPD directing as shown) had moderate back ups on both highway and streets, and by 3:00 PM the southbound highway was backing up to Ohukai, and by 5:30 PM almost back to No Kihei Rd intersection. (Where's the Collector Road!?!).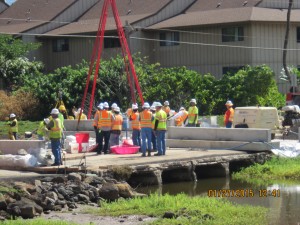 1/15/15   While this message board can be a challenge to read in sunlight, according to the County DPW, the last week of this month the long awaited "bridge" replacement along SKR crossing Kaonoulu gulch just north of the Whale Sanctuary, will continue, causing complete shutdown of SKR in both directions for 4 days this month. Beginning at 3:00 AM on Tuesday 1/27 , the stretch between Kaonoulu and Kulanihakoi will be completely closed until end of day on Friday 1/30/15.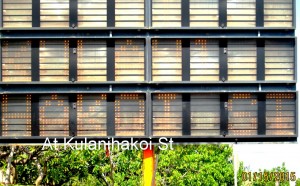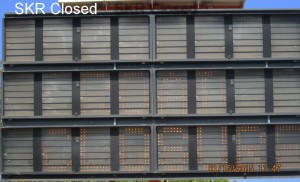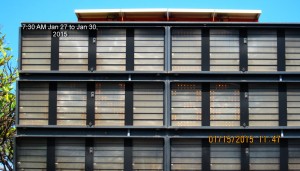 Once again the value of the never built North South Collector Road stands out, as all traffic is detoured to the Pi'ilani Hwy and unsignalized intersections.
Our suggestion is drivers exit SKR before these detours via roads that DO have lights at the Hwy, like Lipoa, and Pi'ikea and Uwapo .
For some prior reports on this project, see