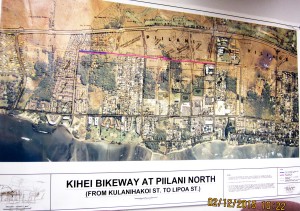 The tragic background for all of these terms relates to the occurrence of a bicyclist killed on the road, usually by a motor vehicle. The concept begins when a "ghost bike", usually an old well used bicycle is painted white, is set up off the road as a memorial to the cyclist. There is one mauka the Pi'ilani Hwy in memory of Karl Hagen. A ghost ride is a memorial group bicycle ride as a tribute to fallen cyclists, and the "ride of silence" adds the solemn feature that the riders ride in silence, usually without headsets.
The Maui Bicycle League (MBL) has organized such a ride for this Saturday (5/21/16) starting ar 9:00 AM along the bike path along the Mokulele Hwy round trip, beginning at the Target parking lot. This is NOT a KCA event, but we do support the MBL, so we offer er this information to our community. See their announcement below. 
| | |
| --- | --- |
| | |
The Maui Bicycle League will be holding a group ride called "The Ride of Silence" on May 21st, 2016.  In the month of May, cyclists nationwide will take to the roads in a silent procession to honor cyclists who have been killed or injured while cycling on public roadways.  Although cyclists have a legal right to share the road with motorists, the motoring public often isn't aware of these rights, and sometimes not aware of the cyclists themselves.
This ride is free and is being organized by Maui Bicycle League. Â Helmets are required for this ride.
Who can join:  Any bicycle riders
When: Saturday, May 21, 2016 at 9:00 am. Please arrive early as the ride will begin promptly at 9:00 am.
Where: Meet in Target Parking Lot, at the side closest to Mokulele Highway
Route: Mokulele Greenway (Bike Path)Â (to Kihei and back)
Equipment needed:Â  Bicycle, Helmet and a white shirt/jersey or Karl Hagen shirt if you have one
Equipment recommended:Â  Front and back lights
Special Notes:Â  Maximum ride speed will be 12 mph. No earbuds allowed on MBL rides.
Rain Date: Sunday, May 22, 2016 at 9:00 am
Please RSVP for this event by sending an e-mail to maui@hbl.org.
We are also seeking donations of food and water for the bicyclists. Volunteers are also sought to help at the refreshment station.
For more information, to volunteer and to sign up, please email
maui@hbl.org
.
We hope to see you there to help raise awareness about the need to protect bicyclists on Maui.
MBL rides provide an enjoyable way to ride safely in a group, meet other cyclists, and learn paths around the island. Look for additional updates at
www.mauibicyclingleague.org
.