Are You in a Flood Zone? Better check as they have moved!
Sometimes there is mistaken impression that you have to live along the shoreline to be in a flood zone. While living close to coast certainly can put you in a tsunami zone, that is not the same as a flood zone, as designated by the Federal Emergency Management Agency (FEMA.)
At the Kihei Community Center (KCC) this Tuesday (9/9/14) you can check the FEMA maps to see where your property is located, which can indicated how much your insurance rate will be. Beginning at 3:00 PM, with a presentation set for 5:00 PM, officials from FEMA, Maui County Planning Department and State DLNR will participate until 7:00 PM.
It was about 18 months ago when FEMA visited Kihei to talk about this   See http://gokihei.org/news/fema-visits-kihei-to-explain-present-and-proposed-flood-zones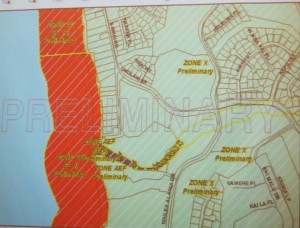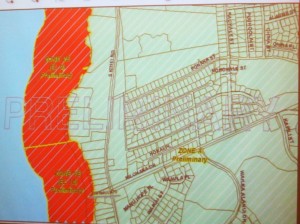 Maps may be viewed at www.http://gis.hawaiinfip.org/FHAT/ . For more info, call Planning Department at 270-7253