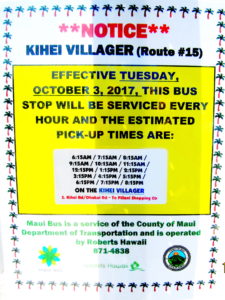 10/1/17 #kihei
Do you ride the Maui Bus? Do you know we have two routes running in Kihei? The Kihei Villager runs from the Pi'ilani Village shopping center (Safeway +) on Lipoa to Maalaea, starting before 6:00 AM until almost 9:00 PM, once per hour, SEE schedule at https://www.mauicounty.gov/DocumentCenter/Home/View/4353. A series of signs have been posted at stops along the route; this one is at Ohukai going South, advising a schedule change.
The other one is the Kihei Islander Route 10, which runs between Queen Ka'ahumaku Center and the north edge of Wailea, also once per hour, with a similar schedule but runs until 9:30 PM, with no change expected.
To lean more about the entire bus system, see https://www.mauicounty.gov/125/Department-of-Transportation.